A brief look at F1 helmets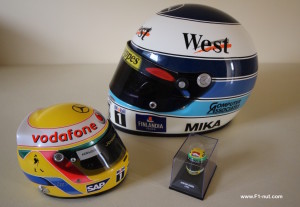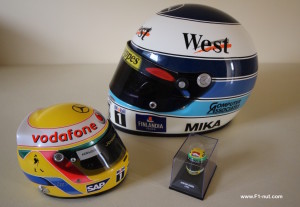 A reader recently asked me for advice on F1 helmet collectibles and to be honest I've very little personal experience. For collectors, F1 race helmet replicas fall into a few different categories (in order of value):
1. Actual helmets raced or owned by drivers.
You'll find these through professional auctioneers or specialist F1 memorabilia stores with starting prices often at $US3,000 for even run of the mill F1 drivers.
2. Full size replica helmets made by authentic race helmet manufacturers (safe for use in actual racing).
There are genuine Bell, Arai, etc. race helmets that are professionally sprayed with full details replicated to be historically correct. For instance, Senna Bell helmets painted by Sid (if you can find them) command high values.
3. Full size replica helmets for display only (not rated for actual race use).
You can typically find a lot of these on eBay, in particular from vendors in Argentina. From what I've been told quality is variable but if only used for display in the home bar or pool room, then no issue.
4. Mini half size replicas.
Half size (1:2) replicas are quite popular and range in the US$100-$300 mark. These are mass produced and unless autographed by the driver themselves, won't see too much price appreciation. These are a good compromise if full size helmets are out of your budget.
5. Miniature 1:8 scale replicas.
Minichamps, Onyx, TSM all produce 1:8 scale helmets. The most commonly traded would be the 1:8 Minichamps and can generally be picked up around US$20-$40 mark with the exception of any Senna helmets. Due to their smaller size and price – ideal for collectors on a budget.
In terms of collectability, the same principles for race car diecasts apply – helmets that were used by famous world champion drivers are more desirable. Helmets with tobacco labels also look more authentic. It goes without saying that the iconic Senna helmet is probably the most collectable. I've never really focused on helmets but have managed to hold a very small collection (mainly the Minichamps 1:8 scales) due the amount of space they take up. Don't under-estimate the shelf space needed! You can see what I mean in the size comparison shots below: