Best Formula 1 Books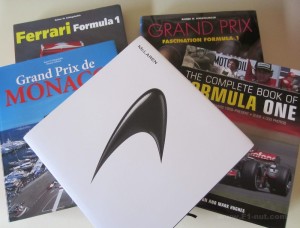 Looking for some good F1 books to read?
Here's my current list of the best Formula 1 racing books that I've had the pleasure of reading. I will tweak the list from time to time – at the moment the Top 10 includes many Rainer Schlegelmilch books because they are so good. The first 5 books make the list just based on the detail and the amount of work that would have been spent into making them.
My basic criteria for this list is the quality of the photography, degree of research, number of pages, book layout and presentation. Most of these are large heavy hardcover books.
I have to admit I have a personal preference for color photobooks but that isn't to say that there aren't great B&W grand prix books around (e.g. Chris Nixon's excellent Auto Union Album 1934-1939).
To balance this list, check my other book lists (best Senna books, best Ferrari books and best team books). I will slowly get around to posting reviews of all the books and will update them with working links.
F1-nut.com Recommended Formula 1 books (click links to read book review)

There are quite a few other books that deserve an honorable mention like Chris Nixon's "Racing the Silver Arrows", William Taylor's "Lotus the Cars" and Stuart Codling's "The Art of the Formula 1 Race Car". Maybe after I've finished proper reviews of the first 100-200 books, I will look at revising this list.