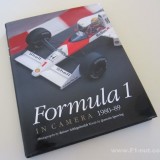 Book Review: Formula 1 in Camera 1980-89 by Quentin Spurring and Rainer Schlegelmilch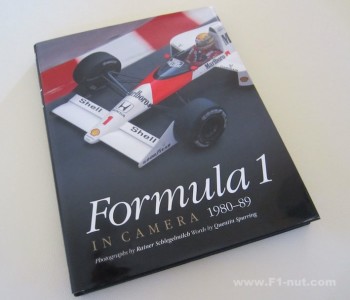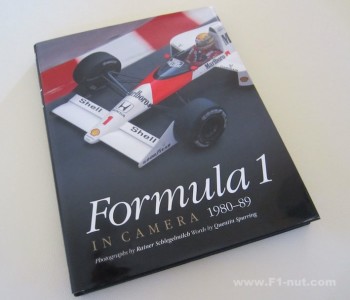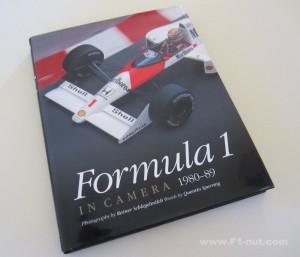 :
:
:
:
:
:
:
:
:
:
Author
:
Quentin Spurring
Photographer
:
Rainer W. Schlegelmilch
Publisher
:
Haynes Publishing
Positives
Great mix of Schlegelmilch photos; Smaller teams also covered
Negatives
Nothing major; there are a few photos which are grainy
Posted March 24, 2013 by
f1nut
The cover of Formula 1 in Camera 1980-89 should probably be added to the list of best F1 book covers – it features a fantastic Rainer Schlegelmilch shot of Ayrton Senna cornering through an apex (looks like the right hand corner after Loews hairpin leading into Portier?) at speed in his iconic McLaren Honda MP4/5. This title is the second in the series and for this book, Schlegelmilch's photography is supported by narration from Quentin Spurring (Autosport and Autoweek writer) instead of Paul Parker.
For many fans, the 80's decade in F1 is looked back possibly the most memorable – although it was dominated by Williams and McLaren – the field of superstar drivers that competed (Villeneuve, Jones, Piquet, Rosberg, Lauda, Senna, Prost, Mansell) is mind boggling compared to the most recent decade. The 80's is also remembered for the emergence of Ayrton Senna and photos of him feature heavily in the book.
Out of the other books in this series, this one easily contains the best selection and mixture of Rainer's finest photos from this era.
The chapters follow the same format as other books in the series – ten chapters with each one covering a season from 1980 to 1989; the chapters are even titled after chart topping songs/album titles in that year – the chapter for 1983 marking Nelson Piquet and Brabham's championship year is titled after the Eurythmics' "Sweet Dreams are Made of This".
It's no surprise that the standout feature of this book is the photography and is definitely one of my favorite Schlegelmilch photo books. Out of the other books in this series, this one easily contains the best selection and mixture of Rainer's finest photos from this era. The photo selection includes a great mix of pit lane, crowd, race action, engine and chassis, cockpit, podium and aerial photography. If you like close-up engine photography, there are plenty of photos to study in this book. Fans of Brabham cars will be pleased as there are plenty of great race photos of the BT49/BT49C/BT49D, BT52, BT53B, BT54, BT55 and BT56. Probably the only thing missing is the famous Schlegelmilch time montage photo layout.
The authors haven't left out the smaller racing teams or the less successful factory teams either – there are excellent shots of the Shadow DN12, March 821, Osella FA1, Arrows A3, Alfa Romeo 179C, Toleman TG181, Ligier JS17, Tyrrell 012, Spirit 201C, Haas Lola THL1, Dallara 188, ATS D7  and the list goes on.
Wow Factor or Money Shot: Although the shot of the rear flames from Stefan Johansson's Ferrari turbo is one of Schlegelmilch's most famous shot from this era, there are plenty of other photo gems to choose from including de Cesaris' Brabham BT56 giving Johansson's MP4/3 a spark shower in 87 Austrian GP and Keke Rosberg getting sideways in Monaco '83.
Suitable for: Any serious F1 fan…