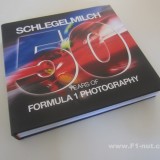 Book Review: 50 Years of Formula 1 Photography by Rainer Schlegelmilch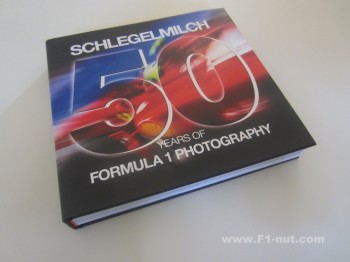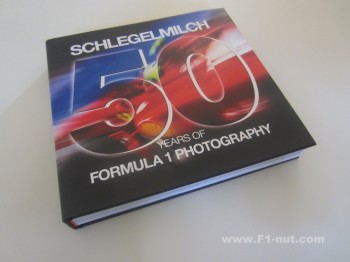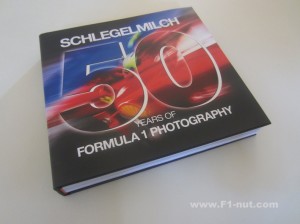 :
:
:
:
:
:
:
:
:
:
Author
:
Rainer W. Schelegelmilch
Photographer
:
Rainer W. Schlegelmilch
Publisher
:
Könemann
Positives
Huge photo reproductions including lots of spectacular action and candid shots.
Posted March 19, 2014 by
f1nut
I was lucky enough to get a copy of Rainer Schlegelmilch's 50 Years of Formula 1 Photography last Christmas and after several re-reads from front to back cover, I'm coming to the conclusion that this book almost eclipses his best title over 25 years ago in Fascination Formula 1.
50 Years is by far, one of the largest and heaviest book in my collection weighing in at a mere 5.1 kgs (approx 11 lbs) and 660+ pages. Physically, its actually a very heavy book to handle. Könemann, the publisher, have beautifully bound the book with a blurred action shot of Massa's Ferrari on the dustjacket cover.
For regular collectors of Schlegelmilch books, 50 Years contains a recognisable blend of several layout styles and themes from his previous books.
The book is divided into a few sections. Bernie Ecclestone,  Sebastian Vettel and the man himself write the opening forewords which are also translated into 7 other languages including French, German, Dutch, Spanish and Italian.
The next section is a photo chronology of F1 from 1962 to 2012. The opening photos start with large full page B&W photos from 1962 Belgian GP in Spa. Many of these photos are reminiscent of Rainer's B&W book Portrait of the 60s Formula 1.
Quite a few of the wifes and girlfriend (WAG) photos from his The Roaring 70s book (note: I will post a review of this later this year) have also been included. In fact, the excellent color photos from the 70's era in this book should have been the standard used in Schlegelmilch's slightly disappointing The Roaring 70s title.
Certain world champios feature heavily in the photos – Jim Clark, Jochen Rindt, Bruce McLaren, Jacky Ickx, Jackie Stewart, Ayrton Senna and Michael Schumacher. So if you're a fan of these drivers, you'll be happy with this book.
Towards the rear of the book is the "mosaics" chapter which contains thumbnail photos layouts from each year featuring various aspects of F1 including race starts, steering wheels, key people, podiums, helmets, world champions, chassis, fans, celebrities and grid girls.
The last section is the comparisons chapter which uses the "then vs now" layout of a 60's photo on the left page juxtaposed with a modern photo (with the same subject) on the right page – Rainer used this in his World Champions book. The aerial top down photos of the Ferrari are superb.
As a purist collector, I still rate Schlegelmilch's Fascination Formula 1 as his best book for its mutli-panel John Frankenheimer style layout and my own personal preference for photos highlighting engine and chassis evolution. However, the photos in 50 Years are much larger and take full advantage of the larger page format. So for fans who are new to Rainer Schlegelmilch's works, 50 Years is easily the best compilation book for a personal library. There are many photos here that have been published in Schlegelmilch's earlier titles but probably not to the same large format size.
In addition, many of the photos from Schlegelmilch's more expensive limited edition books (e.g. Great Challenge series) are included in 50 Years. So if you wanted to choose only one Schlegelmilch F1 book for your library, this one would be good choice.
Wow Factor or Money Shot: Hard to choose, there are so many iconic Schlegelmilch photos included. The color photos from the 60's including Bandini's Ferrari at '67 Monaco GP, Amon's fiery 312 at Monza in '67, Jack Brabham holding an umbrella in the BT33 at Monaco in 1970, Regazonni in the 312B3 at Nurburgring in 1971 are favorites of mine.
The money shot?  Elio De Angelis leaving the pits in the Lotus in 1981 Zeltweg.
The wow factor?  the Schlegelmilch mosiacs of course, my favourite is the steering wheels.
Suitable for: General appeal to all types of F1 fans
Did you enjoy this review? You can add your own star rating of the book or DVD in the User Rating box above. Or you can add your thoughts or comments below for other readers. Make sure to also check out other similar reviews in the Related Reviews box below!