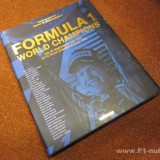 Book Review: Formula 1 World Champions by Rainer Schlegelmilch and Hartmut Lehbrink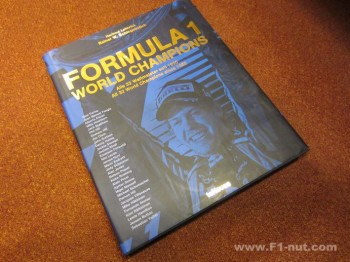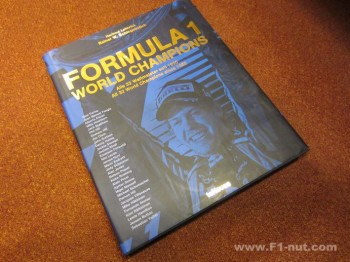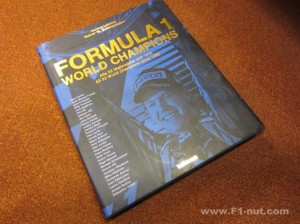 :
:
:
:
:
:
:
:
:
:
Author
:
Hartmut Lehbrink, Rainer W. Schelegelmilch
Photographer
:
Bernard Cahier, Rainer W. Schlegelmilch
Publisher
:
teuNeunes Publishing Group
Positives
Great double page photos
Negatives
Limited photo selection compared with other better Schlegelmilch titles
Posted October 31, 2013 by
f1nut
As expected, Seb Vettel adds yet another championship title to his bulging trophy cabinet and joins the elite 4 title winners club alongside greats like Prost. A lot of the mainstream F1 history books have profiled the sports world champions – "Formula 1 World champions" is Rainer Schlegelmilch's effort to catalog F1's champions from his vast image archive into his own photo compilation book.
Like other Schlegelmilch/Lehbrink books this one is dual language with English and German text. Bernie Ecclestone is given the honors of penning the book's foreword. Rainer's book then starts with Farina in 1950 and features every world champion up to Vettel's 2011 title year. For each driver chapter, there is 1 page of German and 1 page of English background with around 2 pages of photos for each championship year.
Unlike other Schlegelmilch titles though, is the absence of his signature montage and multi-panel shots. This book has a very traditional photo layout with a full page portrait photo of each driver, some smaller panel photos of the car/driver combination and also some beautiful double page photos including Fangio at Reims 1954, Graham Hill at Monaco 1968, Fittipaldi at Austria 1972 along with action shots of Lauda, Hunt, Andretti, Scheckter (shadowed by Gilles), Piquet, Senna and Schumacher.
Just like his book Grand Prix de Monaco, for the pre-60's champions Rainer has used some excellent black & white photos from Bernard Cahier.
For Schlegelmilch book collectors – how does this stack up against his other titles? Well there is definitely a bit of overlap in photos from some of his earlier books and if you are a younger modern day F1 fan, you might be a little disappointed with the limited photo selections for Kimi, Fernando and even Seb Vettel himself compared to Lauda, Senna, Stewart ans Schumacher. This is an ok standalone book (if you don't own any other Schlegelmilch books) but not one of Rainer's best titles.
Wow Factor or Money Shot: Hard to go past 1966 photo of Jim Clark doing an Austin Powers/Dr Evil impersonation with his little finger; high resolution double page shot of Jim Clark at Spa in the wet and photo of the Brabham crew (Bernie Ecclestone, Gordon Murray) peering over Nelson Piquet at the 1981 Austrian GP; and top down photo of Jochen Rindt in the Lotus 49. The 2010 shot of Bernie with Vettel , Alonso, Hamilton, Webber and Button re-creating the famous the Senna, Mansell, Prost, Piquet shot.
Suitable for: Casual/new F1 fans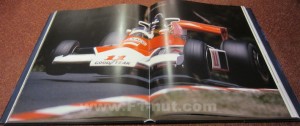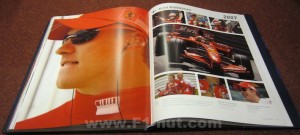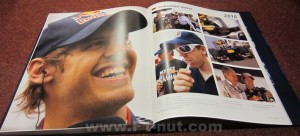 Did you enjoy this review? You can add your own star rating of the book or DVD in the User Rating box above. Or you can add your thoughts or comments below for other readers. Make sure to also check out other similar reviews in the Related Reviews box below!