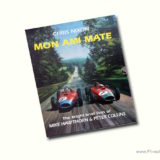 Rare Book Review: Mon Ami Mate by Chris Nixon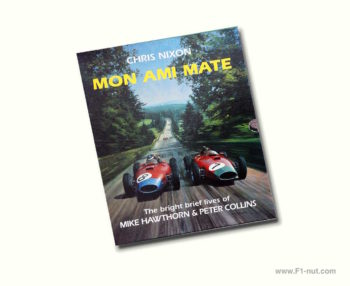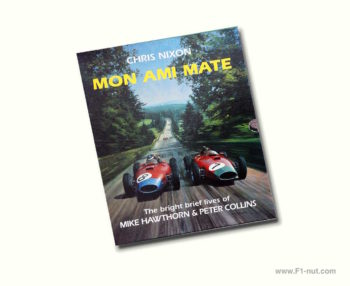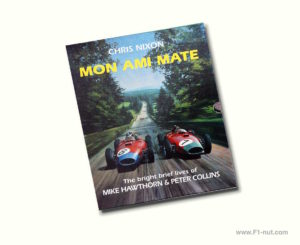 :
:
:
:
:
:
:
:
:
Author
:
Chris Nixon
Photographer
:
Bernard Asset, Bernard Cahier, LAT Photographic, Yves Debraine
Publisher
:
Transport Bookman
Positives
Archival photos; excellent background research
Negatives
minor - only black & white
Posted December 17, 2017 by
f1nut
Throughout the years, Ferrari have managed to have a few harmonious teammate pairings – think Seb and Kimi this year, Alesi and Berger. One celebrated bromance was Mike Hawthorn and Peter Collins who both drove for the Scuderia in the late 1950s.
Mon Ami Mate is Chris Nixon's heavily researched book dedicated to these two British drivers. At the time of the book's original launch in 1991, there were few books about Peter Collins although Mike Hawthorn had published an autobiography, so Chris Nixon's book was somewhat of a revelation for F1 history buffs.
Chris Nixon has divided the book into 7 sections or "mini-books". Each book covers Mike Hawthorn and Peter Collins's respective career during the same period – so Mon Ami Mate is really a parallel biography of sorts. Book one deals with early formative years from 1929-1951, while the rest of the other books cover shorter 1-2 year periods from 1952 through to 1959.
The level of personal details of family, women and secret love children (there are a few chapters included on the romantic exploits of both drivers) are all researched from source material including interviews with close associates and family relatives. Supplementing this are the inclusion of  rate personal photos – in fact there are probably more off-track photos than racing ones.
In addition to Hawthorn and Collins, the book can't escape also featuring the 2 big names of that era – Fangio and Moss. The book also weaves these 2 drivers into the story of Collins and Hawthorn's career paths.
Like all drivers of the post war era, Grand Prix racing wasn't their exclusive pursuit – there would also be sportscar & Le Mans.
Like all Nixon books, the print layout is double column, compressed font and line spacing – there is plenty of narrative to read. It will take you a while to finish the book from cover to cover.
Although all in black & white, the stand out of this book is the photography. There are easily over 250 excellent (some smallish) high resolution photos which are a testament to the skill and equipment of the photographers of the day – in many of the photos you can see the driver's expressions behind their helmets. Excerpts from other print media are included – like Paris Match's article on 1957 Monaco GP crash involving Collins.
Note: (1) While the 1st edition is hard to find, Mon Ami Mate has been re-printed again this year, so you should be able to find a copy online or at specialist bookshops. Although, if you have the limited edition copy signed by the author and Louise Collins your book value should be fine. (2) The Hawthorn – Collins camaraderie also appears in this year's Universal Pictures film documentary "Ferrari: Race to Immortality" (yet to watch, but I'll post a review when I get around to it).
Wow Factor/Money shot: Detailed research of off-track material; lots of archival and personal photos.
Suitable for: F1 history fans