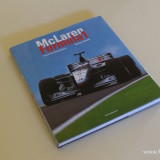 Book Review: McLaren Formula 1 by Rainer Schlegelmilch and Hartmut Lehbrink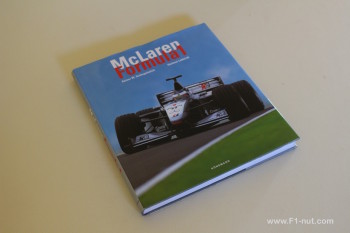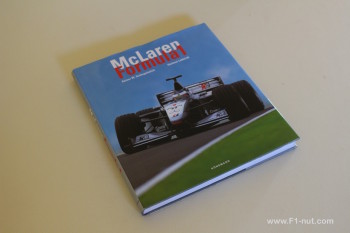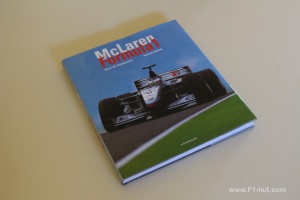 :
:
:
:
:
:
:
:
:
:
Author
:
Hartmut Lehbrink, Rainer W. Schelegelmilch
Photographer
:
Rainer W. Schlegelmilch
Publisher
:
Könemann
Positives
Beautiful race photos of iconic McLaren F1 cars One of Schlegelmilch's better books
Posted July 26, 2015 by
f1nut
It's now mid-season and McLaren definitely seem to be fumbling around to the point of being dangerously close to losing some of their prestige team tag (echoes of WilliamsF1 circa 2011?). It's hard to imagine the team would lose its way for any extended period of time, but even when they were struggling the past, McLaren would still have top shelf sponsors on their cars. The lack of a title sponsor at the moment, seems to go against their history. There are no lack of books to choose from on the team.
Before the excellent 'McLaren the Cars' by William Taylor was released in 2008, I had always rated Rainer Schlegelmilch and Hartmut Lehbrink's McLaren Formula 1 as the best McLaren F1 photobook published. Released in the late 90's and with Mika Hakkinen MP4/14 on the cover, this book is a proper F1 hardcover book deserving of a good personal library or coffee table collection.
Featuring some of Schlegelmilch's famous photos of McLaren cars in race trim – the book covers the start of the McLaren team in 1963 all the way to 1999.
The main attraction of course is Rainer's photos – the red white black livery of the Marlboro McLaren era are captured in all their glory. Photo layouts are varied and there are some beautiful double page shots – Prost at Monaco 1985, Senna in the wet at Phoenix in 1990, Senna in the MP4/6 at Magny Cour.
McLaren enthusiasts will real take a liking to the book's many race and close up photos of the M23 race car. Its one of the few books that captures the M23 in action in all it's various liveries from 1973 to 1978. The other aspect of the photography is the inclusion of so many detailed engine and chassis closeup shots.
Like Schlegelmilch's other books collaborating with Hartmut Lehbrink, each chapter is a self contained summary of the season for McLaren alongside thumbnail and large photos. The general structure of the book though is:
1963-1965
1966-1970
1971-1979 (beautiful Fittipaldi M23 shots)
1980-1987 (excellent engine photos)
1988-1992 (some fantastic Senna/Prost photos)
1993-1996 (nice Brundle McLaren Peugeot shots)
1997-1999 (less race photos in this section)
Towards the rear of the book, hand drawn profiles with the technical specifications of each car is included. The book's foreword is written by 1974 champion Emerson Fittipaldi and there is also a dedicated chapter in homage of Bruce McLaren.
Although the book doesn't cover the Hamilton McLaren era, there's still a lot too enjoy with this book. You can easily set aside an hour or so pouring over the photography.
Wow Factor/Money Shot: Lots to choose from, although my favourite are the pics of Denny Hulme's M19C  and Prost/Watson M29 from 1980.
Suitable for: Mainly McLaren fans but definitely Marlboro McLaren fans