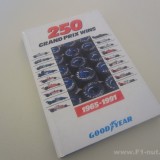 Book Review: 250 Grand Prix Wins 1965-1991″ by Alan Henry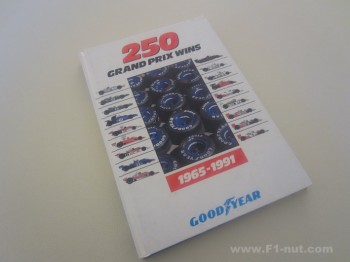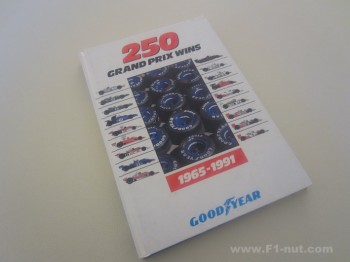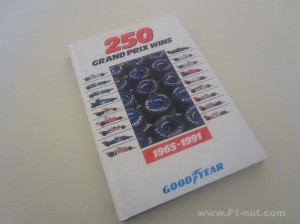 :
:
:
:
:
:
:
:
:
:
Author
:
Alan Henry
Photographer
:
Bernard Cahier, Nigel Snowdon, Paul-Henri Cahier, Sutton Images
Publisher
:
Hazleton Publishing
Positives
Great photography
Negatives
Minor - A little less Goodyear spin (unavoidable really)
Posted June 22, 2014 by
f1nut
With the return to Austria this weekend, it reminded me of the old 70's and 80's races so I decided to grab Alan Henry's tribute to Goodyear racing in "250 Grand Prix Wins: 1965-1991" off the shelf for a re-read.
Although the content of this book reads a little like a Goodyear PR catalog, it does do a good job of tracing the history of Goodyear in F1 from its 1st win with Ritchie' Ginther's Honda to its 250th win courtesy of Ayrton Senna's famous victory in the 1991 Brazilian GP. A later edition of the book was published which celebrated Goodyear's 300th win.
In addition to  B&W and color photos from Goodyear's own photo archives, copies of their past win celebration posters from Jack Brabham's 1966 British GP win to Keke Rosberg's win in Dallas in 1984.
Some of the color photography is beautifully reproduced in the book – Jack Stewart's Tyrrells, Prost Mp4/2B and Senna in the McLaren MP4/4. Quite a few famous Bernard Cahier photos are included.
The book is divided into 6 chapters – the more interesting ones are chapter 3 'Historic Milestones' and the last chapter in "Formula 1 Testing". Even if you're not particularly interested in Goodyear or the tyre aspect of F1 racing, the photos in this book are good enough to view simply as a photo album.
Wow Factor or Money Shot: Checking rear tyre treads on Dan Gurney's Eagle at Goodwood in 1967; closeup of Nigel Mansell's blown rear tyre in 1986 Australian GP.
Suitable for: 80s F1 fans