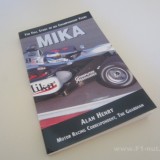 Book Review: Mika by Alan Henry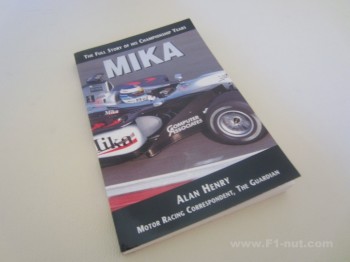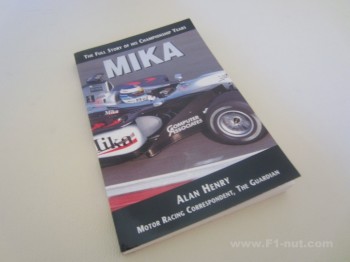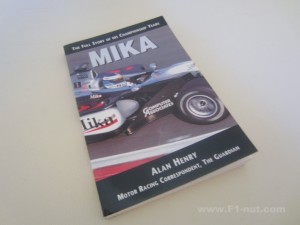 :
:
:
:
:
:
:
:
:
:
Author
:
Alan Henry
Publisher
:
Queensgate Publications
Positives
Short snappy biography of Mika Häkkinen's F1 career up to 1999
Negatives
No in-depth interviews or early pre-F1 career insights
Posted January 18, 2015 by
f1nut
During my work commute I've been reading an excellent compact biography of Mika Häkkinen by Alan Henry. I have to admit Mika was one of my favourite drivers and was the second off a production line of 'Flying Finn' F1 world champions from Finland starting with Keke Rosberg to Mika to Kimi and now potentially Valtteri (who is co-incidentally managed by Mika).
Henry's "Mika" is an entertaining (unofficial) biography which also offers a little insight into the behind the scenes F1 business deals of the top teams in the late 80s and early 90s which had a domino effect on Häkkinen's early career path.
I didn't know Ron Dennis was poised to buy the Ligier team to get access to Renault engines – imagine a 1994 McLaren Renault instead of a McLaren Ford Cosworth? Anyway, we now know that Mika partnered the great Ayrton Senna in the back half of the 1994 season and actually out qualified him in Monza.
Without spoiling the book, most of the pivotal moments in Häkkinen's career get a look – his early days at Lotus being managed by Keke Rosberg, grabbing a test role with McLaren, promotion to driver, near death accident at the Australian GP, an overdue maiden win in 1997 and double world championship success.
This is a short book and doesn't delve much into Mika's family life or early GP2 career dicing with Michael Schumacher. Published in 2000, it obviously doesn't trace the rest of his McLaren career to F1 retirement or his DTM career.
I'm sure a more complete biography could be written now but it would seem the unfortunate injury to Mika's biggest rival, Michael Schumacher will be probably mean we'll never get any new meaningful views about his race duels with Häkkinen.
Even though this is not an official biography, it does include very choice quotes from highly respected people in the F1 paddock close to Mika  – Rosberg, Dennis and Ramirez.
The photos are sparse but the book includes a few choice shots from Formula 1 Pictures.
Again, in this age of e-books, this paperback is really a nice Kindle-sized book that can be read over a few short sittings.
Wow Factor/Money Shot: Nothing singularly fantastic – just a basic book.
Suitable for: Häkkinen or McLaren fans