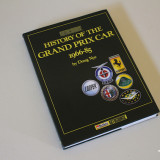 Rare Book Review: Autocourse History of the Grand Prix Car 1966-85 by Doug Nye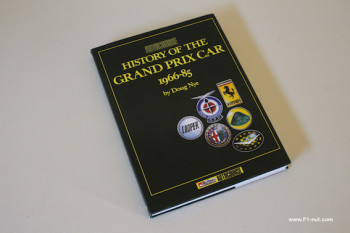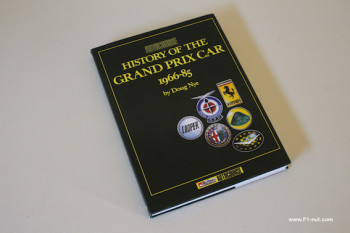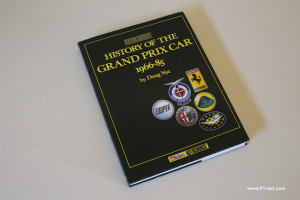 :
:
:
:
:
:
:
:
:
Author
:
Doug Nye
Publisher
:
Hazleton Publishing
Positives
Typical Autocourse in depth detail and beautiful colour photos
Negatives
Not enough colour photos
Posted June 13, 2016 by
f1nut
For many F1 followers, the Autocourse annuals are revered as the authoritative benchmark publication for F1 season reviews – and for good reason too – the best F1 journalists, top photographers to complement loads of technical information and race statistics all in a professionally bound hardcover. The fact that Autocourse annuals retain good values doesn't hurt either.
One important Autocourse text is the Autocourse History of the Grand Prix Car by Doug Nye. I have a copy of the first edition which covered 1966 to 1985. The later second edition published covered 1966 to 1991. Either one is worthy addition to any personal library.
Readers familiar with the Autocourse style and layout of the mid 1980's annuals will feel right at home. Most pages are in the small 3 column font and B&W photos that are typical of the earlier Autocourse annuals.
Doug Nye has divided the book into 15 chapters and choosing organising them based on notable engine/chassis developments over the 1966-1985 F1 eras from the Repco Brabham engines, Matra hybrid 4 wheel drive, Tyrrell championship cars, McLaren M23, Lotus 78 & 79, Ferrari V12s, Williams FW07 series cars, Gordon Murray designed Brabhams, Ferrari Turbos to the McLaren TAG MP4/2s of the mid 80s.
The rear section (last 120 pages) of the book includes summaries of the various F1 engines, F1 team directory and last but not least, some excellent archival photos of various F1 factory design drawings (including of the Lotus 49, Lotus 78 and FW06 front suspension)
Although the bulk of the photography is B&W, the book does contain beautiful full pages color photos.
Obviously with the first edition  only covering up to 1985, much of the Senna era cars are missing. Nevertheless, this book is still a pleasure to read for all fans of historical F1 cars.
Wow Factor/Money Shot: Lots of 3D cutaway diagrams of iconic cars including the Tony Mathews drawings of the Matra MS10, Ferrari 312B2, 312T, Eagle Westlake, Tyrrell 003 and also various old Piola drawings – Brabham BT49C.
Suitable for: 70s & 80s era F1 fans.