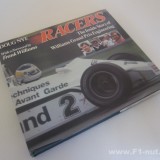 Book Review: Racers – The Inside Story of Williams Grand Prix Engineering by Doug Nye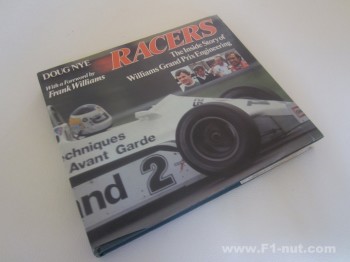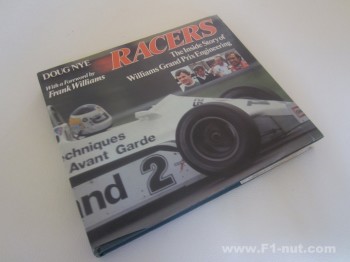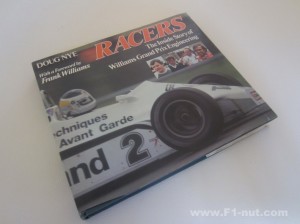 :
:
:
:
:
:
:
:
:
:
Author
:
Doug Nye
Photographer
:
LAT Photographic
Publisher
:
Arthur Barker
Positives
Early Williams team photos
Negatives
Limited color photos
Posted December 30, 2013 by
f1nut
Holidays are a great time for re-reading old F1 books. For long suffering Williams F1 fans the only way to enjoy success is to re-live the team's past glory years. By 1982, Williams had made the big time as a front running team and Racers by Doug Nye was published to reflect on the team's rise and the racer's mentality of Frank Williams, Patrick Head and the team drivers – at that time, Alan Jones and Carlos Reutemann.
Physically, this is a landscape format book with double column text and mainly B&W photos. Divided into 5 sections, Racers starts with a foreword by Frank Williams; covers his fledgeling amateur racing career; starting as a privateer in Formula 3, 2 and F1 with Piers Courage driving the Brabham; the Wolf-Williams period; the seeding of Williams' own F1 team; profiles of Alan Jones, Clay Regazzoni, Carlos Reutemann, Patrick Head; maiden win and developing as a serious championship challenger in 1980. The final sections are dedicated to Williams team racing statistics 1967-1981.
The strength of this book is really the background detail to Sir Frank's early years and the formation of Williams Grand Prix Engineering.  Doug Nye manages to include plenty of the behind the scenes sponsorship deals with Saudi and Leyland vehicles which helped shape Williams for those readers who are interested in the business aspects of F1 and also includes reference to a lot of the various engineering staff at the time.
The photography in the book is limited and is mostly B&W photos with only 8 pages of color photos which is perhaps a bit of a let down.
This is an ok backgrounder to the early Williams years; Doug Nye's writing has his usual attention to research and detail but the photos would probably fall well short of the expectations of today's modern F1 book reader or collector.
Here's hoping that 2014 sees an upturn in success for this great team…
Wow Factor or Money Shot: Not many to choose from so probably the older photos – pitcrew working on the FW05 at Brand Hatch; Williams chatting to Neve in the March in Jarama pits; although the snap of Jones in the FW07B in Jarama pits is great even in B&W…
Suitable for: Only for early Williams fans
[P.S. – Fingers crossed for Schumi to pull through his terrible accident…]