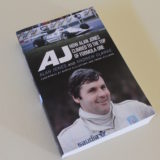 New Book Review: AJ – How Alan Jones climbed to the top of Formula One by Alan Jones and Andrew Clarke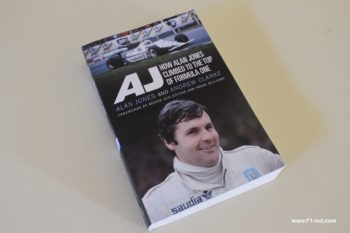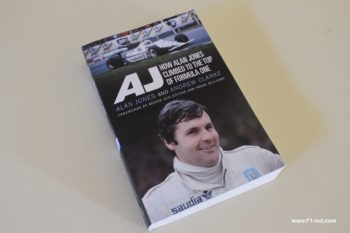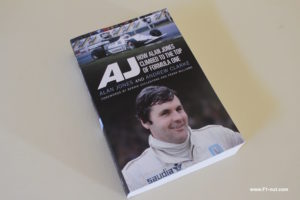 :
:
:
:
:
:
:
:
:
Author
:
Alan Jones, Andrew Clarke
Photographer
:
LAT Photographic
Publisher
:
Ebury Press
Positives
Traces Alan Jones full career; lots of personal opinions and anecdotes
Negatives
Nothing major - perhaps a few more photos
Posted September 5, 2017 by
f1nut
Autobiographies of world champion drivers are always at the top of any F1 fan's reading list. When 1980 champion Alan Jones published his autobiography "Driving Ambition" back in 1981 (reviewed here), the WilliamsF1 driver was in the prime of his racing career. Fast-forward 35+ odd years later, he has finally released a full autobiography with Andrew Clarke – "AJ – How Alan Jones climbed to the top of Formula 1" which looks back on his entire racing career and also offers insights into his family and personal life. Consistent with his TV commentary manner, this book is straight shooting and more genteel readers take note… the dialogue contains a few occasional 4 letter f-bombs. That said, the book makes a great read, especially if you're a fan of the Jones-Hunt-Lauda-Villeneuve era of F1.
Just like Jackie Stewart's and Niki Lauda's autobiographies were written in a cosy fire-side manner – Alan Jones' book is written as if you were having a yarn with him over a few pints of beer at the local pub.
This new book follows the more traditional chronological order to a driver biography instead of the thought bubble format used in his 1981 book by Keith Botsford. Looking back at my old review of "Driving Ambition", I tagged a some minor deficiencies with it – like omitting his post 1981 motorsport career, lack of colour or junior photos — those issues are not a problem in this new book.
The book is relatively fast paced – Jones' early family life, as the son of Australian GP winner Stan Jones, moving to England, Formula 3 and Formula Atlantic seasons in the first 60 pages.
The chapters on Jones' early F1 career with Hesketh, Embassy Hill, Surtees and Shadow are entertaining and he definitely doesn't hold back on his opinion of Graham Hill and John Surtees as team principals. Much of this part of his career including his meeting at Maranello with Enzo for a Ferrari drive and linking up with Frank Williams and Patrick Head at the start of Williams Grand Prix Engineering to become the first Williams driver world champion is also covered in his previous book. Despite that, the chapters on his 1979 and 1980 seasons still make good reading.
The 1981 season starts from just over halfway through the book – Jones traces his up & down season and the drain of travelling leading up to his first retirement from the sport, returning home to race in Australia and coming out of F1 retirement with the Haas team.  The rest of the book rounds out Jones' post-F1 career in sportscars and Australian V8 touring cars (some of these personalities and details won't be familiar to non-Australian readers). The two sections I found particularly interesting (because so little has been written about it) were the Beatrice Haas Lola effort and his stint as manager of Australia's A1 Grand Prix team. The back chapters of the book reflect more on family and his experiences as a TV commentator.
Sprinkled between the chapters, Jones provides his personal views on many drivers, Frank Williams, Patrick Head, Carl Haas & even Bernie E himself. In addition to fellow competitors like Gilles, Reutemann, Lauda & Hunt – he gives his take on Prost, Senna and most Australian drivers Webber and Ricciardo.
The photography is restricted to 16 pages of small panel B&W and colour photos. The photos include many of Alan's early race cars like his Formula Atlantic, Embassy Hill, Surtees and Theodore Racing (unfortunately no pics of his maiden GP winning Shadow DN8). Aside from the obligatory photos of the successful Williams FW07s, there are pictures of other motorsport categories and also several personal shots.
If you're an Alan Jones, WilliamsF1 or late 70's/early 80's F1 fan this new book is a superior read from Jones' previous biography – particularly recommended if you enjoy his commentary style – fast, blunt & straight to the point…
Editorial note: Review copy provided courtesy of Penguin Random House Australia.