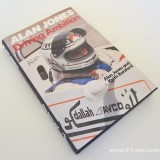 Book Review: Driving Ambition by Alan Jones and Keith Botsford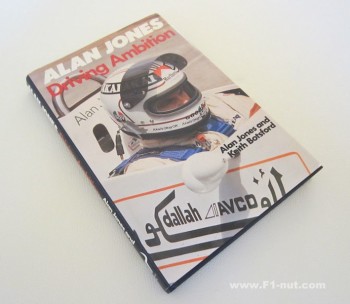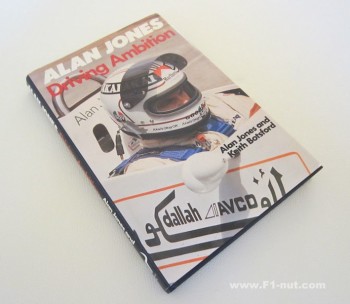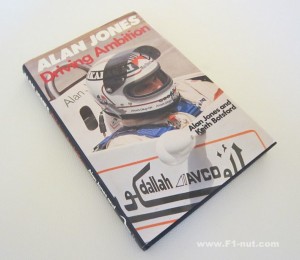 :
:
:
:
:
:
:
:
:
:
Author
:
Alan Jones, Keith Botsford
Photographer
:
Nigel Snowdon
Publisher
:
Stanley Paul
Positives
Good insights into Jones' views on various aspects of F1 at the height of his career
Negatives
Only b&w photos; pre-dates his fallout with Reutemann
Posted March 31, 2013 by
f1nut
During the 2013 Australian Grand Prix, I saw news coverage of bronze statues of the country's past 2 F1 world champions unveiled for Sir Jack Brabham and Alan Jones at Albert Park. Looking at the recent woes of the Williams F1 team it seems a far cry from their first world title success with the Williams-Head-Jones combination in 1980 and the team's dominance in the 80's through to the early 90's.
Most 80's F1 fans probably agree that Alan Jones retired prematurely, so his autobiography "Driving Ambition" written in 1981 at the height of Jones' career gives a very interesting insight into the typical straight shooting style of the Australian driver who would somehow become Frank Williams and Patrick Head's benchmark template for all future William drivers.
The book's style is a little unsual, Keith Botsford provides a series of background paragraphs of different events or aspects of Jones' career and this is followed by narration of Jones' own thoughts. This style is later re-used by Botsford's in his 1985 biography of Keke Rosberg "Keke".
Alan Jones' view of the racing world makes very interesting reading and his views on a range of topics like driving for ex-champion team owners Surtees and Hill, racing accidents, the business side and public side of F1, F1 groupies, mental preparation to racing and lining up on the grid reveal a very pragmatic character.
History fans keen to know more about the 1977 Ferrari seat that got away (Villeneuve eventually took the seat) can read about his visit to Maranello but since the book was published in early 1981, you will be out of luck if you want to read about Alan's views on his team order spat with Reutemann.
In most driver autobiographies, you would expect to see quite a few personal family and early career photos. Although there are 31 black & white photos in total, there are unfortunately few photos of Alan in his junior days. On the flipside, there are some good shots of Jones in the Hesketh 308, Embassy Hill GH1, Surtees TS19 and the Shadow DN8.
As it was written in 1981, Jones' retirement, his later return to F1 in Lola Haas and his touring car career are not covered but you could argue that the more interesting aspects of Alan Jones' career was probably his pre-1981 racing anyway. To win a world title in a field with names like Villeneuve, Reutemann, Piquet, Rosberg, Prost, Scheckter, Pironi and De Angelis is no mean feat.
Money Shot or Wow factor: Shots of the Surtees TS19. Jones' 1980 Championship diary at the back of the book makes for good reading.

Suitable for: Williams, 70's and Alan Jones fans.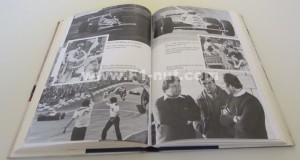 Did you enjoy this review? You can add your own star rating of the book or DVD in the User Rating box above. Or you can add your thoughts or comments below for other readers. Make sure to also check out other similar reviews in the Related Reviews box below!