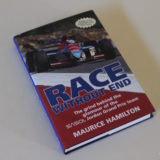 Book Review: Race without End by Maurice Hamilton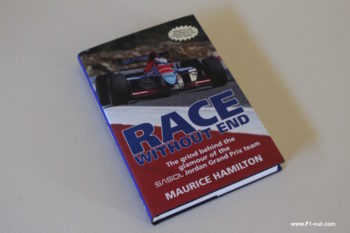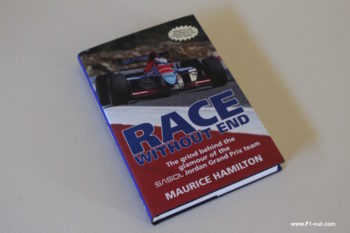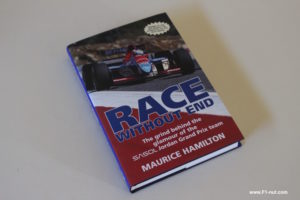 :
:
:
:
:
:
:
:
:
Author
:
Maurice Hamilton
Photographer
:
Diana Burnett, Nigel Snowdon
Publisher
:
Patrick Stephens
Positives
Lots of insider access
Posted July 8, 2017 by
f1nut
Toto Wolff has been irked by Eddie Jordan's recent mutterings about Mercedes selling the team and winding back to being just an engine manufacturer. As a former team owner, Eddie does have form. I was a big fan of the Jordan F1 team in its early days – it produced great race cars and even better iconic liveries – think of the 7Up 191, Buzzin Hornets 199, etc. I dug up an old book by Maurice Hamilton which journals the Jordan team's 1993 season "Race without end".
Although I don't remember much of Jordan's 1993 campaign – re-reading the book reminded me of what an epic struggle the team had with the promise of new Hart engines (replacing Yamaha), musical chairs for one of the driver seats (Capelli, Boutsen then Irvine) and a series of DNFs and bad results with 1st points only until Suzuka (sounds like McLaren's 2017 season).
The gallery of photos are plentiful and great – a good mix of track action, engineering shots and team personnel. Rubens at 21 looks just like Rubens in 2017…
Like any book on a mid-field F1 team, this is largely an up and down ride (more downs than ups) with limited resources against the might of superstar drivers and personalities from the bigger teams.
If you want a book that looks at the early background of Eddie Jordan or life as a privateer team in the 90's, this isn't too bad – it's probably more of personal struggle book than a technical engineering examination.
One things for sure – when you read this book now, you'll see many names are still in the paddock, abeit in the media just like Eddie himself…
Wow Factor/Money shot: Rubens lap chart 1993 San Marino GP; makeshift garage in the Monaco carpark;  transcript of Senna's altercation Irvine.
Suitable for: Privateer and 90's F1 fans.