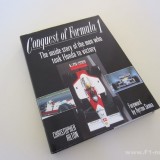 Book Review: Conquest of Formula 1 – The inside story of the men who took Honda to victory by Christopher Hilton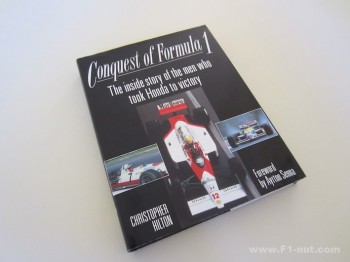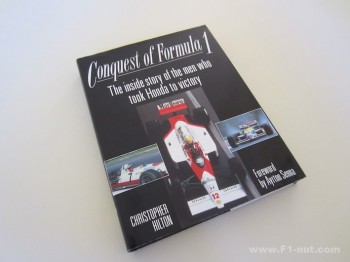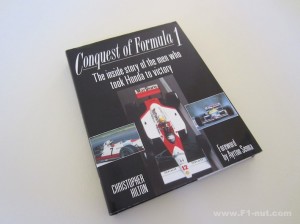 :
:
:
:
:
:
:
:
:
:
Author
:
Christopher Hilton
Publisher
:
Patrick Stephens
Positives
One of the few books that covers the 60's Honda works team
Negatives
The quality of some of the 80s era black & white photos is marginal
Posted May 18, 2013 by
f1nut
As everyone cheers Honda's decision to return to Formula 1 in 2015, its hard not to get all misty eyed nostalgic about Honda's heritage and past success in the sport (if only they had stayed on in 2009!). There haven't been too many dedicated Honda F1 books published (in English anyway), however Christopher Hilton had a go with his long titled book "Conquest of Formula 1 – The inside story of the men who took Honda to victory".
In the first third of the book, Hilton covers Honda's initial foray into F1 as a works team in the late 60s charting their races with Ginther, Bucknam and Surtees. The next chapters deal briefly with Ralt-Honda and Spirit Honda. The middle section recounts the Williams partnership with Rosberg, Mansell and Piquet.  The final section focuses on the McLaren Honda success with Senna & Prost along with the Piquet Nakajima Lotus Honda supply.
Written in 1989, it obviously misses Honda's exit in 1992 and later re-entry in 2001-2008. It also only touches on the Senna-Prost friction that was simmering in early 1989 so the book ironically has a very upbeat tone after documenting the dream team partnership of Senna-Prost-McLaren-Honda and their utter domination of the field in 1988 to give Senna his first world drivers championship.
I have to mention a few things that bug me with the book. Christopher Hilton's writing style here seems to jump around with driver quotes and recollections inserted that often involves too much time shifting. Quotes from Brian Hart and Nobuhiko Kawamoto are useful but sometimes out of place or irregular. Much of the narration is Hilton's own long description of Honda engined GP races sprinkled with driver and team personnel quotes. To be fair to the author, the title of the book after all is "the men who took Honda to victory" however it would have been nice to have more background on the Honda personnel and engineering side of the story. Also, the photos are a mixed bag. There are some great b&w shots of the early Honda RA272 and 301 but some very ordinary b&w photo reproductions of the Ralt, Spirit, Williams and McLaren Hondas considering they raced in the 80's.
I have a few other Honda GP related books which I will post reviews for later in the year. You can also check out an earlier post on F1-Nut.com on Honda's little 2006 inhouse booklet "Honda 300 Grand Prix".
Wow Factor or Money Shot: Honda chief engineer Yoshio Nakamura in deep thought holding the steering wheel in the cockpit of Surtee's Honda RA301.
Suitable for: Honda and Senna fans.
Did you enjoy this review? You can add your own star rating of the book or DVD in the User Rating box above. Or you can add your thoughts or comments below for other readers. Make sure to also check out other similar reviews in the Related Reviews box below!