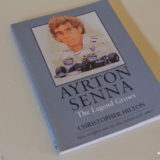 Book Review: Ayrton Senna – The Legend Grows by Christopher Hilton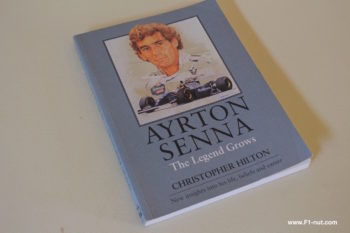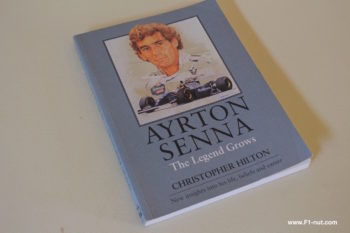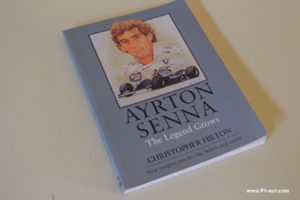 :
:
:
:
:
:
:
:
:
Author
:
Christopher Hilton
Positives
A few new perspectives and interviews, but...
Negatives
...not a lot of new information
Posted June 24, 2017 by
f1nut
It was just a matter of time before Lewis Hamilton drew level with Ayrton Senna's total pole positions (and no doubt he will eclipse Schumi's all time record soon too).  The photos of Lewis with Senna's helmet brings back memories of many of the Brazilian's racing milestones.
Christopher Hilton pumped out a whole series of books during Senna's time and in 1995 one year after his death, he published "Ayrton Senna: The Legend Grows" when the world was still coming to terms with his passing and the Italian court investigations were still in motion.
At 160 pages, this book is Hilton's attempt to discuss Senna's religious beliefs and also make use of some other reference books (including by Adriane Galisteau and Karin Sturm) and new interviews with some of Senna's lesser known associates including his junior karting boss (Angelo Parilla) and the pilot of his personal jetplane, Owen O'Mahony.
The book is basically has a few theme structures – the early chapters are a detailed chronological analysis of the fateful weekend at San Marino; a study of his early karting team; then a walkthrough of some background insights during each season in Senna's F1 career via selected quotes and interviews. Nothing really new here other than some choice quotes from his personal pilot. The back few chapters are more of his own and fellow F1 journalists' personal reflections on Ayrton and an attempt to understand Senna's view of religion and his concern for disadvantaged Brazilians. Hilton recaps the story of Joe Saward's interview with Senna in Autosport which quoted the Brazilian on his religious views, etc.
I think the main attraction are the selected photos. The Allsport photos are recognisable from other publications, but the personal contributions are ones that make study them closer.
If you manage to find this book in the second hand sales aisle, it might be worth picking up for a bargain price but there are definitely better Senna books, even from the author himself (like, "Memories of Ayrton" and "Memories and Momentoes from a Life Lived at Speed").
Wow factor/Money shot: Senna in the Lotus and at Monaco

Suitable for: die-hard Senna fans