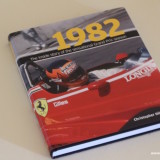 Book Review: 1982 by Christopher Hilton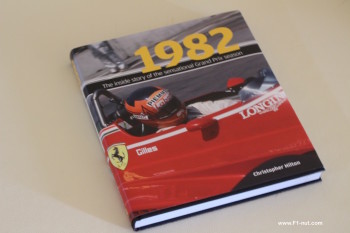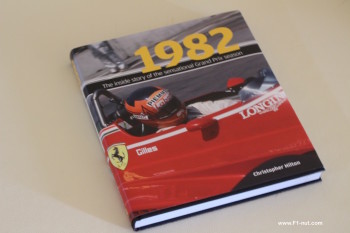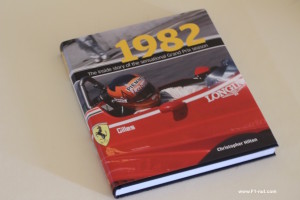 :
:
:
:
:
:
:
:
:
Author
:
Christopher Hilton
Publisher
:
Haynes Publishing
Positives
Without doubt, the fantastic colour LAT photography
Negatives
No much to complain about
Posted February 3, 2016 by
f1nut
Will 2016 be the year Nico Rosberg emulates the F1 world championship crown claimed by his old man, Keke in 1982? In the last few seasons, the might of Mercedes AMG and the FIA's ridiculous engine freeze rules have rendered the F1 season somewhat of a limp borefest compared to other eras. On the other hand, the 1982 F1 season was probably the most unpredictable – 11 GP winners during the season with Keke winning the championship with only 1 actual win but loads of consistency. Aside from the usual season review books like Autocourse and Automobile Year, the 1982 season was also the subject of a hardcover by reknown F1 writer, Christopher Hilton. Complemented with excellent archival colour photos from LAT Photographic – this Haynes Publication is one of the better F1 season review books around.
The book consists of separate chapters for all 16 GPs during the 1982 season. Aside from the usual circuit map, starting grid and race results – many 'chapters includes neat features such as "Fan's Eye View" – F1 fans memories of the actual race attendance and of course special chapters remembering the dashing Gilles Villeneuve and Ricardo Paletti who both lost their lives that eventful season. It's the LAT photography that really brings the book to life though. Endless pages of great colour photos of both on track action and off track camaraderie between the drivers and teams.
Physically, the book is a nice hardcover/dust jacket publication. Format wise, it is similar to other Haynes books of this era – e.g. Regga (the Clay Regazzoni autobiography also by Chris Hilton) and the Rainer Schlegelmilch Formula 1 in Camera series of books.
Wow Factor/Money shot: While there are plenty of beautiful shots of the Williams, Lotus, Brabham, McLaren, Renaults and Ferraris – the photos of the back of the grid cars in full 1982 liveries like the Ensign, Osella, Arrows, March and Tolemann are a great reminder of the wide variety of chassis design and sponsors that F1 used to have.
Suitable for: Definitely late 70's/80's F1 fans