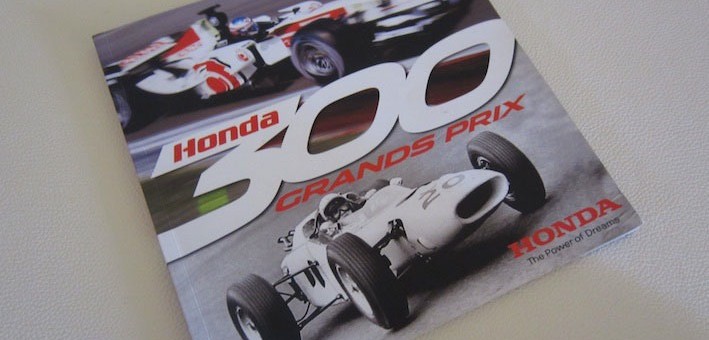 Book Review: Honda 300 Grands Prix
With the media stirring (somewhat optimistic) rumors about Honda coming back to F1 after 2014, as a Honda fan this is exciting. There several good Honda F1 books like Christopher Hilton's "Conquest of Formula 1" (which I will get around to posting a review) but I managed to dig up an old Honda early 2006 in-house publication on my bookshelf which was distributed to Honda dealers celebrating 300 GPs in F1.
This is a simple booklet some key GP wins for Honda both as a works team in 1960s and an engine supplier in the late 80's and early 90's. It reminds you of the big names that have enjoyed success with the Japanese motor company like Senna, Prost, Mansell, Piquet, Rosberg and Surtees.
There are also plenty of smaller thumbnail photos of Honda related cars other than the famous Williams Honda and McLaren Honda cars – 2006 Super Aguri, 1991 Tyrrell Honda, 1987 Lotus Honda and the 2001 Jordan Honda.
Being an inhouse publication it contains a lot of typical PR spin articles but you can overlook this by simply enjoying the great photos. Ironically, this was published before Jenson's maiden GP win with Honda in Hungary which I'm sure they would have included coverage. Of course, we know that Honda left the sport, the team became Brawn GP in 2009, Jenson won the title and the team got bought by Mercedes. Maybe in the offseason I'll try to post some Jenson and Mercedes/Silver Arrows book reviews (there are some excellent books around on these 2 subjects).
Wow Factor or the Money Shot: Inside spread shots of the RA271, MP4/4 and RA106
Suitable for: F1 history fan