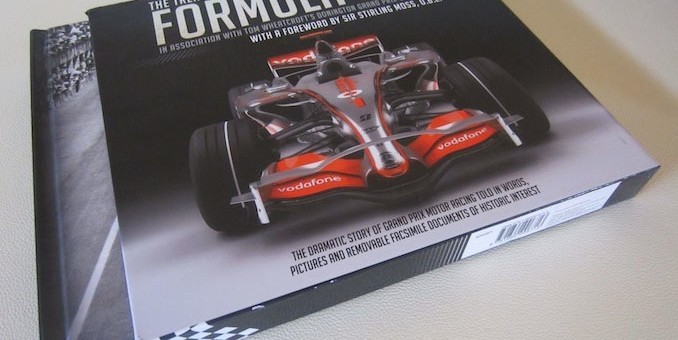 Book Review: Treasures of Formula One by Bruce Jones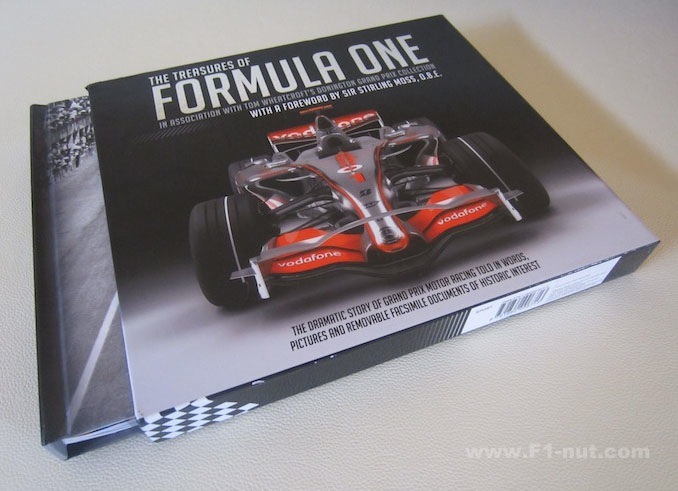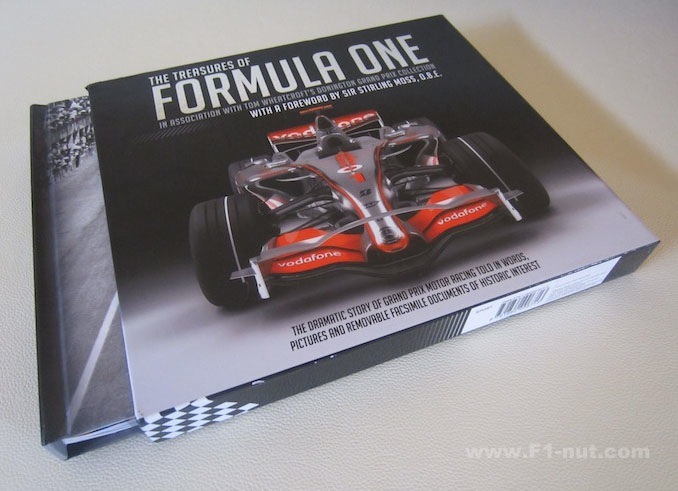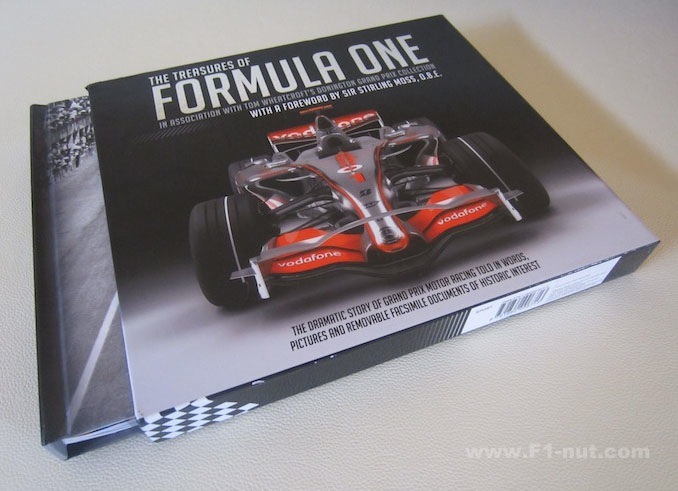 :
:
:
:
:
:
:
:
:
:
Author
:
Bruce Jones
Publisher
:
Seven Oaks
Positives
Great collection of lift-out historical documents
Posted December 2, 2012 by
f1nut
F1 museum in a book
I bought Treasures of Formula One by Bruce Jones a few years ago online sight unseen, so I was pleasantly surprised to find its slipcase format and content making it one of the more unique F1 books I have seen. Bruce Jones (former Autosports editor) also writes the regularly updated itv Sport title "The Complete Encyclopedia of Formula One". Treasures of Formula One is a mixture of the usual F1 history book but its difference is the inclusion of copies of F1 historical artifact's from Tom Wheatcroft's Donington Collection that you can pull out and study in detail.
The chapters of the book cover various eras of F1 from the pre-war racing up to 2008 with some chapters specifically covering Fangio, Moss, Prost, Senna and Schumacher.
Fans who have visited the Donington Collection in the UK, which is arguably the 'mecca' for any serious F1 fan to visit, might recognize some of photographed items and display cars in the book.
Inside the book's chapters, there are paper sleeves with a variety of historical documents, with the more interesting ones including:
Promotional postcards for 1905 & 1907 Belgium Grand Prix at Spa
Panoramic photo of 1937 Grand Prix at Nürburgring
Pencil Portrait of Nuvolari (1938) by Judy Zeeman
Copies of 1939 obiturary notices for Richard Seaman on Mercedes letterhead. These are in German but translations have been printed at the back cover of the book.
Copy of the official program for the 1957 French Grand Prix at Rouen
Telegram sent to Nuvolari in 1951
Large poster re-print for the 1957 Australian GP
Lap charts for the 1949 British GP
Copies of Stirling Moss' driver contracts with Maserati (1956) and Cooper (1958). Even includes a Materati invoice for preparing the Maserati 250F.
Large cutaway drawing of BRM 57
Large cutaway drawing of Lotus DFV 63
Copies of British GP driver, Roger Williamson's various license documents
Copy of the poster for the 1974 US Grand Prix at Watkins Glen
Promotional brochure for the 2008 Grand Prix by Monaco's Fairmont Hotel
Small set of Castella cigar cards featuring various pre-war race cars
As you can see most of the sample documents are for the earlier eras, the chapters for the modern post 1980s grand prix era reads just like an ordinary F1 history book without any extra special exhibits.
Being an established motorsports writer, Jones narration keeps it all relatively simply backed up with a foreword by Sir Stirling Moss – there are no interviews or deep analysis – just summarizes key historical events, so this book is more geared towards the casual F1 fan
Photography and layout is well balanced. There the usual stock LAT race photography in addition to photos of various Donington exhibit items such as helmets (Hawthorn, Moss, Hill, Brabham, Stewart, Lauda, Mansell, etc) and cars (Lotus 25, Brabham BT24, Renault RE50, Williams Honda FW11, McLaren MP4/12, etc.)
Note: This book has been updated with the 2nd edition with the Vettel Red Bull on the cover. From what I have seen in the bookstores, the 2nd edition covers up to the 2011 season but only in an extra 2 pages with a new chapter on Hamilton and Vettel. There are no special artifacts for this section, so I don't think you suffer much if you manage to pickup the 1st edition for a cheap price rather than buy the 2nd edition.
Wow Factor or the Money Shot: It may look a little like a kids pop up book but if you're a fan of pre-war, 60s and 70s grand prix racing, the pull out exhibits are great. My favorites are the copies of Stirling Moss' contracts for Maserati (1956) and Cooper (1958).
Suitable for: pre-1980 F1 history fans; casual F1 fans