1:43 Senna Diecast Review: Eaglemoss vs Minichamps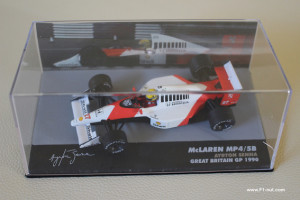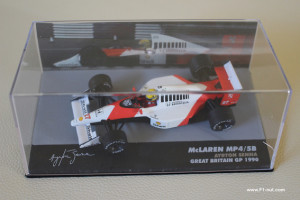 While Minichamps have recently re-released several 1:43 Ayrton Senna McLarens and JPS Lotus race cars, a budget diecast alternative for some may be the Eaglemoss 1:43 diecasts released in Brazil -these are part of a promotional release in Brazil of the "Brazilian Legends of Motorsport" diecast series of 1:43 models of the F1 cars driven by the country's most famous F1 drivers – Senna, Piquet, Fittipaldi, Pace, Gugelmin, Barrichello, Massa, Moreno and the list goes on.
I have an Eaglemoss 1:43  McLaren MP4/5B and comparing it to an older Minichamps 1:43 McLaren (albeit a McLaren Mp4/8), there are some noticeable differences.
The most obvious difference is the size and style of the display case & plinth – the Eaglemoss comes in a larger and taller plastic display case with a sloping plinth. The perspex cover on the Eaglemoss is probably more prone to cracking, as I have discovered.
The rear inlay is a big weakness for the Eaglemoss  – it has a very flimsy double sided paper sleeve for the rear inlay (race photo of the MP4/5B on the front and some car statistics on the rear).
The McLaren Marlboro red on the Eaglemoss model is a much more deeper red while the red on the Minichamps' McLarens look paler with an almost slight orange tinge.
In addition to the Senna cars, the iconic Fittipaldi Lotus 72D, Fittipaldi McLaren M23 and Piquet Brabham BT49C are over championship cars available. Fans of less famous Brazilians such as Ricardo Zonta and Luciano Burti might be happy that the BAR Honda 002 and Jaguar Ford R2 are also available.