Posted
May 16, 2014 by f1nut
in Cars
F1 diecast news – DeAgostini Senna magazine and Kyosho 1:8 McLaren MP4/4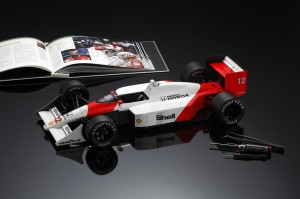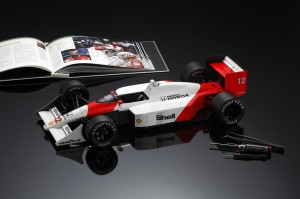 UK, German and US Senna fans might be interested in DeAgostini Publishing's monthly subscription magazine on Ayrton Senna which also includes parts to gradually build a Kyosho McLaren MP4/4 1:8 scale (55cm long). I haven't personally seen the magazine or the model but the Kyosho is supposed to be a mix of metal diecast and resin. Not sure how it would stack up against the Amalgam version but it looks impressive – engine cowling can be removed with full engine, suspension and cockpit detail. McLaren and Honda have been involved and part proceeds also go to the Senna Foundation in Brazil. The magazine/model is supposed to available to EU and rest of the world later this year.
I'm keen to see the Kyosho and the magazine in the flesh and do a post, so watch this space. From the closeup pics on the DeAgostini modelspace website, the model looks highly detailed.
Thanks to Hotwire for the shots and the links.
Link for those interested: DeAgostini modelspace
I've included DeAgostini's video (although its obviously an infomercial, at least it gives you some idea of the model scale).