1:43 diecast review: Kyosho vs Minichamps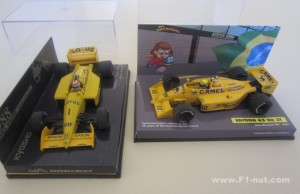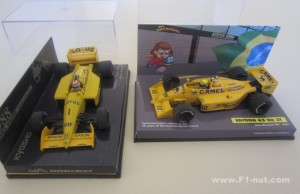 Kyosho are better known for their radio control cars but they do produce some beautiful 1:12 scale sports and road cars. Collectors will also be familiar with the 1:64 scale F1 team collections and other 1:43 F1 models produced by Kyosho in the last 90's. Since we have the Japanese GP this weekend, let's look at one of Kyosho's Suzuka Circuit limited runs – the 1988 Piquet Lotus Honda 100T. We'll also try to compare it to the a Minichamps 1:43 Lotus Honda – in this case, a Senna Lotus 99T.
On close inspection is looks exactly like a 1:43 Minichamps model – same box size as the old regular 1:43 Minichamp diecasts. Its most likely that these are contract manufactured out of the same factory in China under different licensing. The only other Kyosho 1:43's that I'm aware of in the Minichamps' style display boxes are the Rising Sun Suzuka and Fuji Speedway series for the Japanese GP (e.g. BAR Hondas, Super Aguri's).
One obvious difference is the Camel yellow paint hue used for the chassis (from memory and photos, there was no dramatic difference in the Camel yellow used by the Lotus team between seasons 1987 and 1988). The Senna Minichamps is more bright and lively while the Kyosho is a little pale and dull. The Kyosho driver figure is a better fully formed figure with proper arms. Both have diecast chassis while front and rear wing are plastic.