1:43 diecast review: Centauria F1 collection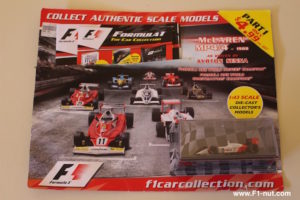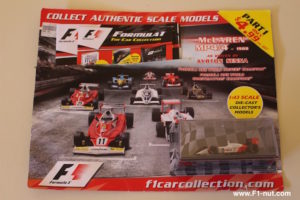 Back in August, I posted a review of the 1:43 Brazilian Champions Eaglemoss series – another inexpensive 1:43 diecast series is being currently being sold in Australia via a fortnightly series. Italian and UK readers will have seen these models distributed last year in their countries.
The first model in the series is the McLaren Honda MP4/4 mounted on a plastic sloped track circuit diorama base.  Included with each model is an 20 page foldout of brief history of Senna- McLaren 1988 season and also a simple technical breakdown of the MP4/4 engine and chassis. As you can see the introductory price for first model was AUD4.99 (approx EUR3.50/USD3.80/GBP3)!
Although the model looks very plastic up and the livery paintwork is a little uneven in parts – the main chassis is diecast metal.
Centauria are an Italian company specialising in serial release collectibles. In Italy, Centauria are advertising the 1971 STP March 711 in 1:43 scale, which previously has only been mass produced by Quartzo and Spark.
Future cars in the series include:
1977 Lauda Ferrari 312T2
2014 Hamilton Mercedes W05
1992 Mansell Williams Renault FW14B
1972 Fittipaldi Lotus 72D
2002 Schumacher Ferrari F2002
2009 Button Brawn BGP001
1984 Senna Toleman TG184
2005 Alonso Renault R25
2013 Vettel RedBull Racing RB9
1991 Schumacher Jordan 191
1981 Piquet Brabham BT49B
The Ferrari 312T2 looks reasonably similar to previous Hotwheels 1:43 efforts.
If you are a beginner collector on a small budget and you're not fussed with models without the driver figure and helmet – the Centauria diecasts are worth a look.