F1 world championship diecasts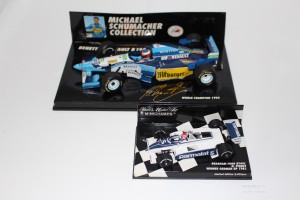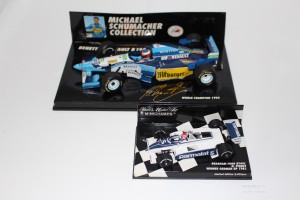 I received an email from a reader in Singapore asking about the various F1 world championship winning cars available in diecast (or resin for Spark models). Seems like this would be something useful to share with other collectors, so here's a small list I quickly pulled together (by no means complete).
Spark has recently been releasing several 1:18 scale world championship cars like the Williams FW07B and FW11B. Minichamps also looks to be re-releasing some previously rare 1:18 like the Andretti Lotus 79 (late Sept 2015 release), so there seems to be a lot of new opportunities for collectors to plug  missing gaps in their collections.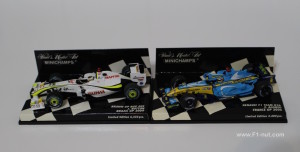 Championship Year

Car/Driver

Available Diecast model & scale

1950
Alfa Romeo 158 #2/Farina
·       1:43 Brumm – British GP
1951
Alfa Romeo 159/ Fangio
·       1:43 Brumm (LE 5000 pcs)
1952
Ferrari 500 F.2 #101/Ascari
·       1:43 Brumm – German GP·       1:43 Brumm – World Champions Limited Edition

·       1:18 CMC

·       1:18 Exoto

1953
Ferrari 500 F2/Ascari
·       1:18 Exoto
1954
Mercedes W196 #18/Fangio
·       1:43 Brumm – German GP·       1:43 Spark – German GP

·       1:43 IXO

1955
Mercedes W196C #18/Fangio
·       1:43 Brumm – Italian GP
1956
Ferrari D50 #1/Fangio
·       1:43 Brumm – German GP
1957
Maserati 250F #2/Fangio
·       1:43 Brumm – Argentine GP
1958
1958 Ferrari D246 #4/Collins
·       1:43 Brumm – French GP·       1:18 Exoto XS
1959
Cooper T51 #12/Brabham
·       1:43 Brumm – British GP·       1:18 Schuco
1960
Cooper T53 #1/Brabham
·       1:18 Schuco (LE 2000 pcs)
1961
Ferrari 156/P.Hill
·       1:43 Brumm – Belgian GP·       1:43 IXO

·       1:43 Hotwheels Elite

·       1:18 CMC

·       1:18 Exoto XS

1962
BRM P57 /G.Hill
·       1:43 Spark·       1:18 Spark
1963
Lotus Climax 25/Clark
·       1:43 Spark
1964
Ferrari 158/Surtees
·       1:43 Brumm – German GP·       1:43 Redline
1965
Lotus 33/Clark
·       1:43 Spark·       1:43 SMTS

·       1:18 Spark

1966
Brabham BT20/Brabham
·       1:43 Spark
1967
Brabham BT20/Hulme
·       1:43 Spark
1968
Lotus Ford 49/ G.Hill
·       1:18 Quartzo·       1:18 Exoto
1969
Matra MS80/Stewart
·       1:43 Quartzo – World Champions Limited Edition·       1:18 Spark (Italian GP)
1970
Lotus Ford 49B/Rindt
·       1:43 Minichamps·       1:43 Quartzo
1971
Tyrrell Ford 003/Stewart
·       1:43 Minichamps·       1:43 Quartzo

·       1:43 Quartzo – World Champions Limited Edition

·       1:18 Exoto

1972
Lotus Ford 72D/Fittipaldi
·       1:43 Minichamps·       1:43 Quartzo

·       1:43 Quartzo – World Champions Limited Edition

·       1:18 Exoto

·       1:18 Quartzo

1973
Tyrrell Ford 006/Stewart
·       1:43 Minichamps·       1:18 TSM German GP
1974
McLaren M23/Fittipaldi
·       1:43 Minichamps·       1:18 Minichamps
1975
Ferrari 312T2/Lauda
·       1:43 Minichamps·       1:43 Hotwheels Elite

·       1:43 Quartzo

·       1:43 Fujimi (LE 500 pcs)

·       1:18 Minichamps

·       1:18 Exoto

1976
McLaren M23/Hunt
·       1:43 Minichamps·       1:18 Minichamps
1977
Ferrari 312T2/Lauda
·       1:43 Minichamps·       1:43 Quartzo

·       1:18 Minichamps

·       1:18 Exoto

1978
Lotus Ford 79/Andretti
·       1:43 Minichamps·       1:43 Quartzo

·       1:43 Quartzo – World Champions Limited Edition

·       1:18 Minichamps

·       1:43 Spark

1979
Ferrari 312T4/Scheckter
·       1:43 Minichamps·       1:43 Hotwheels Elite

·       1:18 Exoto

1980
Williams FW07B/Jones
·       1:43 Minichamps·       1:18 Spark
1981
Brabham BT49/Piquet
·       1:43 Minichamps·       1:43 Quartzo
1982
Williams FW08/Rosberg
·       1:43 Minichamps·       1:43 Minichamps World Champions Collection

1983
Brabham BT52/Piquet
·       1:43 Quartzo·       1:43 Minichamps

·       1:43 Minichamps Word Champions Collection

·       1:18 Minichamps

1984
McLaren TAG MP4-2/Lauda
·       1:43 Minichamps·       1:43 Minichamps World Champions Collection

1985
McLaren TAG MP4/2B Prost
·       1:43 Minichamps·       1:43 Solido

·       1:18 Solido

1986
McLaren TAG MP4/2C Prost
·       1:43 Minichamps·       1:43 Solido

·       1:43 RBA

·       1:18 Solido

1987
Williams Honda FW11B/Piquet
·       1:43 Quartzo·       1:43 Minichamps

·       1:43 Minichamps World Champions Collection

·       1:18 Spark

1988
McLaren Honda MP4/4 Senna
·       1:43 Minichamps·       1:43 Minichamps Senna Collection

·       1:43 Minichamps World Champions Collection

·       1:18 Minichamps

1989
McLaren Honda MP4/5 Prost
·       1:43 Minichamps·       1:43 Minichamps World Champions Collection

·       1:18 Minichamps

1990
McLaren Honda MP4/5B Senna
·       1:43 Minichamps·       1:43 Minichamps Senna Collection

·       1:43 Minichamps World Champions Collection

·       1:43 RBA

·       1:43 Onyx

·       1:18 Minichamps

1991
McLaren Honda MP4/6 Senna
·       1:43 Minichamps·       1:43 Minichamps Senna Collection

·       1:18 Minichamps

·       1:20 Tamiya Collectors Club

1992
Williams FW14B/Mansell
·       1:43 Minichamps·       1:43 Minichamps set (with FW15C)

·       1:43 Quartzo

·       1:18 Exoto

·       1:20 Tamiya Collectors Club

·       1:24 Onyx

1993
Williams FW15C/Prost
·       1:43 Minchamps·       1:43 Minicamps set (with FW14B)

·       1:43 Onyx

·       1:18 Quartzo (LE 4000 pcs)

·       1:18 Minichamps

·       1:64 Minichamps

1994
Benetton B194/Schumacher
·       1:43 Minichamps·       1:43 Onyx

·       1:24 Onyx

·       1:18 Minichamps

1995
Benetton B195/ Schumacher
·       1:43 Minichamps·       1:43 Onyx

·       1:18 Minichamps

·       1:24 Minichamps

1996
Williams FW18/Hill
·       1:43 Minichamps·       1:43 Minichamps World Champions Collection

·       1:18 Minichamps

1997
Williams FW19/Villeneuve
·       1:43 Minichamps·       1:43 Minichamps World Champions Collection

·       1:18 Minichamps

1998
McLaren MP4/13/Hakkinen
·       1:43 Minichamps·       1:43 Minichamps World Champions Collection

·       1:18 Minichamps

1999
McLaren MP4/14/Hakkinen
·       1:43 Minichamps·       1:18 Minichamps
2000
Ferrari F2000/Schumacher
·       1:43 Hotwheels·       1:18 Hotwheels

·       1:18 Hotwheels elite

2001
Ferrari F2001/Schumacher
·       1:43 Hotwheels·       1:18 Hotwheels

·       1:18 Hotwheels elite

2002
Ferrari F2002/Schumacher
·       1:43 Hotwheels·       1:43 IXO

·       1:43 Hotwheels elite

·       1:43 BBR

·       1:18 Hotwheels

·       1:18 Hotwheels elite

·       1:24 Hotwheels

2003
Ferrari F2003-GA/Schumacher
·       1:43 Hotwheels·       1:43 IXO

·       1:43 Hotwheels elite

·       1:43 BBR

·       1:18 Hotwheels

·       1:18 Hotwheels elite

·       1:24 Hotwheels

2004
Ferrari F2004/Schumacher
·       1:43 Hotwheels·       1:43 IXO

·       1:43 Hotwheels elite

·       1:43 BBR

·       1:18 Hotwheels

·       1:18 Hotwheels elite

·       1:24 Hotwheels

2005
Renault R25/Alonso
·       1:43 Minichamps·       1:18 Hotwheels
2006
Renault R26/Alonso
·       1:43 Minichamps·       1:18 Hotwheels
2007
Ferrari F2007/Raikkonen
·       1:43 Hotwheels Elite·       1:43 Redline

·       1:18 Hotwheels

2008
McLaren MP4/23
·       1:43 Minichamps·       1:43 Minichamps World Champions Collection

·       1:18 Minichamps

2009
Brawn BGP001/Button
·       1:43 Minichamps·       1:18 Minichamps
2010
Red Bull RB6/Vettel
·       1:43 Minichamps·       1:18 Minichamps Abu Dhabi (LE 7500 pcs)
2011
Red Bull RB7/Vettel
·       1:43 Minichamps·       1:18 Minichamps
2012
Red Bull RB8/Vettel
·       1:43 Minichamps·       1:18 Minichamps
2013
Red Bull RB9/Vettel
·       1:43 Minichamps·       1:18 Minichamps
2014
Mercedes AMG W05/Hamilton
·       1:43 Minichamps·       1:43 Spark

·       1:18 Minichamps