F1 Diecast Review: Quartzo 1:18 scale Jim Clark Lotus 49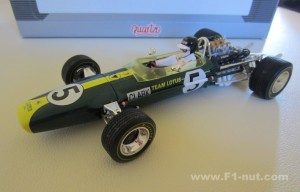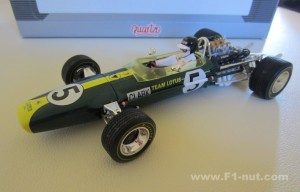 Time for a 1:18 diecast review. Although, Exoto 1:18 Lotus GP cars are highly sought after collectors' items in the secondary market, especially the beautiful Lotus 72D (Fittipaldi & Peterson models) and the Lotus 49 (Jim Clark), it's easy to forget that Quartzo also produce very good 1:18 diecasts.  Their rendition of the famous Jim Clark Lotus 49 Ford Cosworth #5 is not a bad effort considering it will probably cost you about a third of the price of the Exoto Lotus 49.
Quartzo packaging is a little less high-end than Exoto but nevertheless the model still comes in a protective foam mold. The model measures 25cm in length and 11cm wide.  The diecast metal in the Quartzo feels heavy, weighing in at 320gm.
I'll try to get my hands on a 1:18 Exoto Lotus 49 to include some side by side compare photos but from what I have seen of the Exoto version, the Quartzo  actually compares very favorably in terms of chassis build, wheel and driver figure. As can be expected, the Exoto engine detailing is superior but the difference is not as big as you might think. Don't pre-judge Quartzo 1:18 scale models based on their 1:43 series, their 1:18's are comparable to Minichamps.
[note: since this review, I've managed to do a second post with the Lotus 49 Exoto and Quartzo side by side.]
Below are some close up photos of the Quartzo 1:18 scale:
Did you enjoy this review? You can add your own star rating of the book or DVD in the User Rating box above. Or you can add your thoughts or comments below for other readers. Make sure to also check out other similar reviews in the Related Reviews box below!