1:18 diecast review: Hotwheels Ferrari F10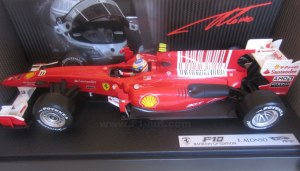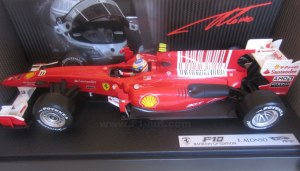 Well Fernando's Ferrari project is now over (at least for 2015) but it did start in fine form with a first up win for the Scuderia in the 2010 Bahrain GP  in the elongated shark finned bar-coded Ferrari F10. Hotwheels had the Ferrari license to manufacture diecast models but now like Fernando, Ferrari have also decided to part ways with Mattel-Hotwheels and go with the May Cheong Group with their Maisto and Bburago sub-brands. Bburago currently produce lower end McLaren and Red Bull F1 diecasts in 1:32, 1:43 and 1:64 scale at cheaper price points than Hotwheels. So it will be interesting to see if Bburago (or via Maisto) will produce a decent Ferrari F1 diecast in 1:43 scale (at least to the quality of the discontinued Red Line Models).
While some collectors will lament the end of Hotwheels Ferrari diecast partnership, there will be others who will be cheering. I'm probably in the undecided camp. Hotwheels' early Ferrari diecasts were awful compared to Minichamps but they did slowly improve over time, particularly evidenced by their Hotwheels Elite range. I remember when I ordered the Hotwheels' Bahrain GP edition of Fernando's F10 I was hoping it would be much improved over the simple detail of the 1:18 Hotwheel Schumacher Ferrari's.
The build quality is actually not too bad. The metal to plastic ratio seems to be about 50:50 and about the same as Minichamps 1:18 diecasts. The front wheels can turn and are properly connected to the steering column and steering wheel. At first I thought the wheels were plastic but they seem to be sponge-like rubber and definitely have a very 'plastic' look to them.
The standard of the driver figure, steering and cockpit would be similar to a Minichamps diecast.
Hotwheels tend to mass produce their 1:18 diecasts while Minichamps' 1:18s tend to be limited production runs (often in the 2,000+ range). This is the reason why you will still be able to pickup a Hotwheels 1:18 Ferrari cheaper than the older 1:18 Ferrari Minichamps.
Here are some close up pics of the Hotwheels' Ferrari F10:
Hotwheels did also produce a 1:18 scale Elite version of the Bahrain GP F10 but it came without the Alonso driver figure. I've never seen the Elite version, so can't comment if it is a big improvement over the standard Hotwheels 1:18 model.