F1 diecast review: Hotwheels Elite 1:43 scale Lauda Ferrari 312T2 6 wheel testcar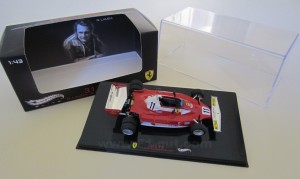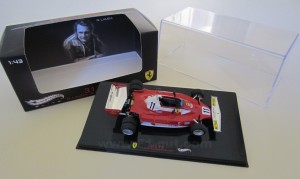 There was a time in the late 90s when Hotwheels Ferrari diecasts were ridiculed by collectors. The modern day Hotwheel Elite are driverless models but the build quality has improved and these diecasts are reasonably detailed.
Last year I did a comparison post of three 1:43 Lauda Ferrari model cars from three different model manufacturers Minichamps, Redline and Quartzo. I wanted to add the Hotwheels Elite Lauda 312T2 1:43  scale into the comparison post at the time but thought it was better to just compare model manufacturers with driver figures. With the movie Rush out soon, I think all Hunt and Lauda memorabilia is going to get new interest, just like with the Senna movie.
Instead, lets take a look at the more radical 6 wheel-test version of the 312T2 that is exclusive to Hotwheels elite series (the other unique one would be the Villeneuve 312T5). Hotwheels elite cars are mounted on a sloped black plastic plinth similar to the style of sloping plinth used for 1:18 Minichamps diecasts. This one is a limited edition of 5000 pieces.
The detail of the 6 wheeler is very good, especially if you compare it to the 1:43 Red Line pieces. The display case size is slightly taller than the standard or older Hotwheels 1:43 cases, measuring: 15cm (w) x 7.5cm (d) x 6.5cm (h). The older standard Hotwheels cases are longer at 9cm deep but only 6cm in height. To the naked eye, the obvious 'extra' detail on this model are:
the radio aerial
wheel rim nuts
gear stick shift in the cockpit
Its a shame Mattel aren't able to secure licensing rights for the drivers and driver helmets to include in the Hotwheels elite series – their values would be much higher otherwise.
For collectors interested in the 6 wheel race and test cars that surfaced in the late 70s, quite a few model diecasts are available:
Minichamps Tyrrell P34 1:43 scale – Scheckter, Depaillier, Peterson
Quartzo Tyrrell P34 1:43 scale – Scheckter
TSM Tyrrell P34 1:34 scale – Peterson
Exoto Tyrrell P34 1:18 scale
Minichamps Williams Ford FW08B Testcar 1:43 scale
Minichamps March Ford 2-4-0 1:43 scale