The new Rush movie and the Lauda vs Hunt revival?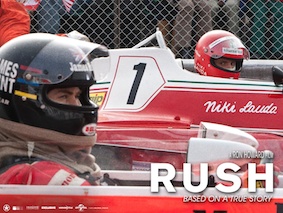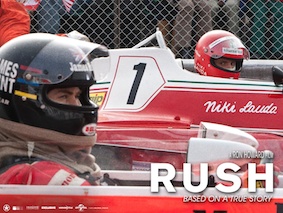 I just watched the new trailer for Ron Howard's movie "Rush" and the racing scenes are looking good. Lots of retro Marlboro logos and cigarettes too. No doubt it will be typical Hollywood melodrama, but I also have high hopes the cinematography will be more like the quality of Frankenheimer's award winning Grand Prix  than Stallone's over the top CGI scenes in Driven. It's eerie how authentic Daniel Brühl looks as the younger Niki. Not sure how well Chris Hemsworth will portray James Hunt, but hey I imagine most F1 fans aren't going to go see it for the acting quality.
Just like the 2010 Senna movie, I expect Rush to rekindle a lot of mainstream interest in Niki Lauda and James Hunt memorabilia.
On the book front there have been many Lauda and Hunt books (I hope to post a few reviews before the movie release in September later in the year). Just to name a few:
Tom Rubython's Shunt
Tom Rubython's In the Name of Glory 1976 The Greatest Sporting Duel Ever
Niki Lauda's  To Hell and Back: An Autobiography

Alan Henry's Four Seasons at Ferrari – The Niki Lauda Years
Niki Lauda's For the record: My years with Ferrari
Christopher Hilton's Memories of James Hunt
Gerald Donaldson's James Hunt the Biography
Eoin Young's James Hunt Against All Odds
I recently posted a review of Alan Henry's Wheel to Wheel which includes a short chapter on this "rivalry".
It will be interesting to see if the values of the Lauda Ferrari 312T /312T2 and Hunt's McLaren M23 diecasts get a boost in resale prices in the collectors market.
I've added the YouTube trailer #2 to this post but I would definitely recommend checking out the official moviesite at: www.rushmovie.com.  The video sequences on the website are great.
Film images: Universal Pictures, rushmovie.com