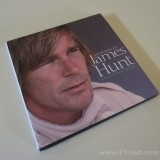 Book Review: Memories of James Hunt by Christopher Hilton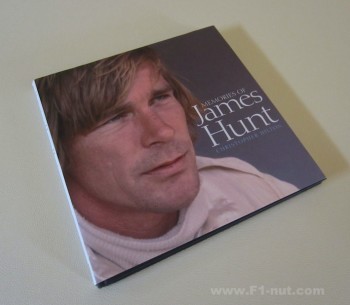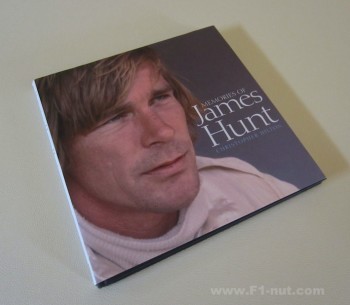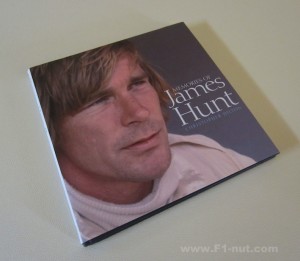 :
:
:
:
:
:
:
:
:
:
Author
:
Christopher Hilton
Publisher
:
Haynes Publishing
Positives
Great collection of interviews and comments
Negatives
F1 fans looking for lots of racing insights will need to look elsewhere
Posted February 3, 2013 by
f1nut
One of the more tongue-in-cheek moments of 2012 was Kimi Räikkönen's homage to James Hunt at Monaco by using Hunt's race helmet livery. With Ron Howard's Rush coming to theatres this year, we are probably going to see a revival of James Hunt (and Nikki Lauda) memorabilia. "Memories of James Hunt" by Christopher Hilton, uses the same format as his earlier title on Senna "Memories of Ayrton", by collecting the thoughts and comments of James Hunt's family, close friends, associates, journalists, team principals, team personnel and other people who had dealing with him during the various stages of his career. I'm a great fan of this style of book – its  much more interesting reading comments from people in the know instead of the author's own personal views.
Hilton divides the book into 3 parts – "Young Warrior", "At War with Himself" and "At Peace with Himself" and these have their own sub-chapters. So, the structure of the book is a little unconventional –  grouped along aspects of Hunt's personality rather than the usual start to end of career chapters. Also the majority of the book's commentary is non-racing content, which in someways reflects a lot about Hunt's off-track celebrity and party animal personality.
If you are a purely a racing fan, looking for comments from actual racing personalities, there are quotes from Lord Hesketh, Emerson Fittipaldi, Mario Andretti, Harvey Postlewaite, Peter Warr, Teddy Mayer, John Watson, Jochen Mass, Patrick Tambay, Keke Rosberg, Jean Pierre Jarier, Max Mosley, John Surtees and Niki Lauda but their comments are mainly confined to a few chapters of the book dealing with the '76 and '77 seasons.
This a major difference between Hilton's excellent "Memories of Ayrton" where the majority of the interviews dealt in some way with Ayrton Senna's racing character or giving background information about a racing incident during his career. Much of "Memories of James Hunt" is dedicated to Hunt's other outside interests, pursuits and his post-race career as BBC co-commentator with Murray Walker.
As an F1 fan rather than a James Hunt fan, I found the "Rat Catcher" chapter on the 1976 season the most interesting one as it gives some background to the wet Japanese GP at Fuji.
The book's photography includes lots of personal and off-track photos sourced from a variety of personal archives. In fact, the photo selection has more of these types of personal photos than photography of Hunt on track behind the wheel. There are shots of James racing in lower formula and photos of his Hesketh, McLaren and Wolf cars  from LAT Photographic.
So this is a great book if you want to learn more about Hunt's partying and drinking exploits, his passion for  budgerigar bird breeding, his home in Wimbledon and its well bound and presented like most Hayne Publications, but if you're after detailed racing insights into James Hunt as a grand prix driver and F1 world champion rather than the public celebrity or random quotes, you will need to turn to other books on Hunt.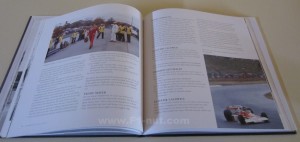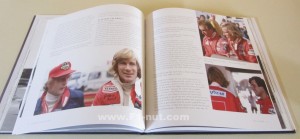 Did you enjoy this review? You can add your own star rating of the book or DVD in the User Rating box above. Or you can add your thoughts or comments below for other readers. Make sure to also check out other similar reviews in the Related Reviews box below!