Diecast Review: RedLine Models Ferrari 312B3 Nikki Lauda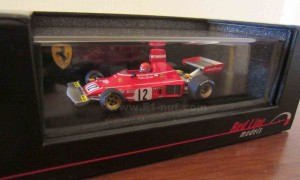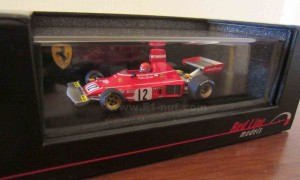 Over the weekend, a car modeller friend showed me a diecast from one of his Ferrari RedLine collection and he graciously allowed me to take some shots to post (I was amazed by the detailing, so I had to ask him).
Although I would like to keep the site focused on F1 books, I guess many F1 book collectors probably have the odd F1 car model too. I have a few Minichamps models myself but stopped collecting several year ago to focus on books, although if there is enough interest I might add a few short posts to cover  F1 diecasts.
For this post, I just wanted to share some shots of Redline's 1:43 scale Ferrari 312B3 driven by Nikki Lauda. This is the 1974 Spain GP win version which marked Ferrari's 50th GP victory. I was blown away with the detail, see for yourself – Redline models are clearly more refined than Minichamp Ferrari models, although they are also much more expensive as a result. Compared to the 1:43 scale Minichamps Lauda Ferrari 312T2, RedLine's model is a much higher quality model, especially the driver detailing, cockpit and rear engine detail.
Redline also produced a 1:43 scale version of Clay Regazzoni 's 312B3 and their other Ferrari F1 models include Bandini and Surtees' 158, Raikkonen and Massa F2007 and F2008 cars.
Redline by the way is apparently the sister company to Spark Models who produce some excellent 1:43 scale resin F1 cars. I've seen the recent Sauber C30 and McLaren MP4/26 Spark models in the shops and they also looked very impressive.