F1 Diecast 1:43 review: Spark vs Minichamps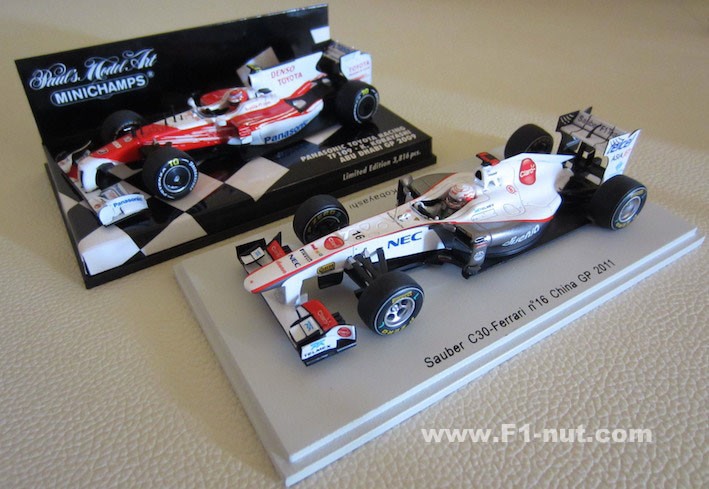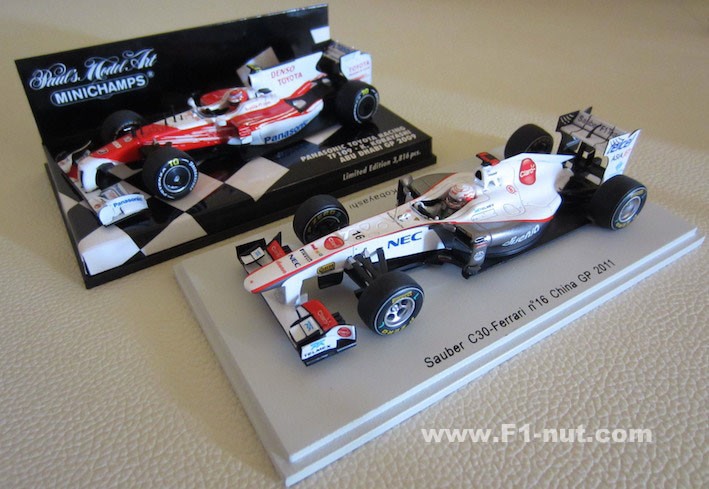 In the 1:43 scale models, Spark models are a serious alternative to the popular Minichamps models. Spark models are resin based and in recent years they have been able to license current season cars like Marussia, HRT, Lotus, Sauber, Force India and McLaren. In addition, they have a good back catalog of 1950s (Mercedes), 1960s (BRM, Eagle, Lotus, Brabham) and 1970s cars (Lotus, Tyrrell, Shadow) which nicely fills the gap of cars that are not available or now too rare by Minichamps (e.g. 70s Lotus and Tyrrells).
For this post, I will try to identify the notable differences between Spark and Minichamps for a recent era car, so lets compare these 2 cars:
Toyota TF109 Kamui Kobayashi
Sauber C30 Kamui Kobayashi
From the photos below, you can see Spark models show much more detail in the following areas:
plastic display case is longer (although new Minichamps models now use the same size display case footprint).
Spark's display plinth is made of wood (Minichamps is plastic mould)
driver helmets, you see a full face with clear helmet visor (Minichamps use a painted black visor)
steering wheel detail with buttons & knobs (no detail on the Minichamps)
detailed driver figure overalls (actually Minichamps models now have good driver overalls detailing)
wire radio antennae (Minichamps use plastic/rubber)
brake ducts clearly defined (not so obvious due to the TF109 aero guards on the rims)
chassis panels etching much more defined
rear wing aero slits more defined
Ideally I would have preferred to compare the Minichamps and Spark versions of the Sauber C30 but this comparison still gives you an idea of the major differences. I'm sure the difference between the Minichamps and Spark McLarens would be similar. Note that the main difference is that the traditional Minichamps model are metal diecast bodies while Spark's are resin models (although Minichamps are releasing their Evolution Series which are resin – not sure if these are rebadged Sparks).
I'll try to do another compare using a 80's F1 car in a later post.
Note: You can check my list of rare and hard to find Spark F1 models here.
Did you enjoy this article? Your thoughts or comments are more than welcome using the comment box below. Or feel free to share the article with other people using the social media toolbar on the left.