Rare and hard to find Spark F1 models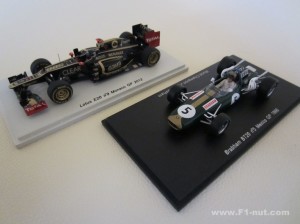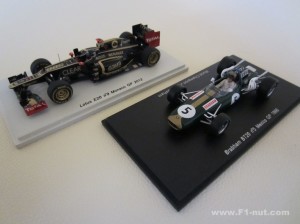 I've received quite a few emails about Spark models. I wrote a post earlier this year with lists of rare and hard to find Minichamps F1 models which I also get a lot of email questions about, so it makes sense to write a companion piece listing rare Spark 1:43 F1 models.
Although Spark models are made of resin instead of metal diecast and they aren't as popular as Minichamps, most serious collectors know that Spark's  recent build quality for 1:43 models is excellent. You would think that the fact that Spark are resin models might put a price ceiling on their resale market price but there are some select Spark models that still can generate decent buying interest above the average US$70 price mark.
Rare Spark 1:43 scale
The following Spark 1:43 cars generally sell for over US$100+ in the second hand market which is well over their original price:
Jack Brabham Brabham BT20 1966 Mexico GP  (World Championship car)
Jacques Lafitte Ligier JS5 1976 US Long Beach  GP (high teapot airbox)
Kimi Räikkönen Lotus E20 2012 Monaco GP (with James Hunt tribute helmet; 800 pcs)
There are some models that are verging on entry into this US$100+ list:
 Jim Clark Lotus Climax 33 1965 German GP (World Championship car) – final sale prices are around the US$80+ mark but I'm sure will soon be permanently in the US$100+ range.
Tom Pryce Shadow DN8 1976 Dutch GP and Shadow DN3 1974 German GP – final prices vary wildly from US$60+.
Spark have always produced great models of specific cars which aren't made by Minichamps, so they can often fill a gap in a collection. No surprise that the older Brabham, Cooper and Shadow cars are popular Spark models. These all still hover around the US$70+ mark. Spark  have produced world championship cars like Fangio's 1954 Mercedes W196 and Denny Hulme's 1967 Brabham BT20 which still can be picked up for reasonable prices.
Spark also produce the driverless Reve Collection resin models, these models also are US$100+:
Howden Ganley Maki F101B 1974 British GP (No.25 – driverless; Reve Collection)
Spirit Honda 201C British GP 1983
Also, there are also some exciting new 1:43 releases from Spark for 2013. I'm keen to see the Prost McLaren M29, Stewart Matra MS80 and Regazzoni Shadow DN9. So we'll need to keep an eye on these…