F1 diecast review: La Storia 1:43 Ferrari Collection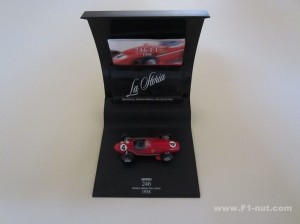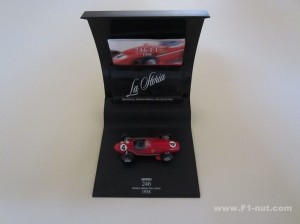 The La Storia Ferrari diecasts are an interesting collection. Made in 1:43 scale, these are badged under the Hotwheels mark. Whilst the IXO line were packaged in a metallic book cover without a driver figure, the Hotwheels La Storia's include a driver figure and come in the distinctive  black clamshell cases.
A number of famous Ferrari GP cars were produced including:
375 Gonzales  – 1951 British GP
500F2 Ascari – 1952 French GP
625 Trintignant
246 Hawthorn
156 Hill – 1961
156 Bandini – 1962
312 Scarfiotti – 1966
312B2 Ickx – 1972 German GP
312T Lauda – 1975 Monaco GP
312T Regazonni
312T2 Lauda – 1977
312T3 Reutemann – 1978
126 C2 Pironi – 1982 San Marino GP
640/F189C Mansell – 1989 Brazilian GP
641 Prost – 1990
F93A Alesi – 1992 Italian GP
412T1 Alesi
Also included is a small booklet with the history of the car.
The build quality is reasonably good, and if you're a Ferrari fan the LaStoria collection is a good way to fill gaps in a 1:43 collection with some of the earlier plastic cars that are also produced by Quartzo and Brumm (but lower quality). The LaStoria models to look out for are the 156 Dinos, 312 B2, 312T3, 640 and 641. All with driver figures too!
The only disadvantage is the large clamshell case which uses a fair bit of space if you want to open them up for display on a shelf. The clamshell plinth measures 13cm (w) x 14cm (d) x 4.5cm (h) but they can't be stacked like Minichamps, Sparks, Brumm, etc. When the display cover is open, the height is 16cm high, so it takes up a lot of display area for such a small scale model.
The more popular ones are the 156 Dino, 312B2, 312T2 and the 312T3.
I've included snaps of the 246 Hawthorn 1958 French GP Reims model below: