F1 1:18 diecast review: Exoto v Quartzo – Jim Clark Lotus 49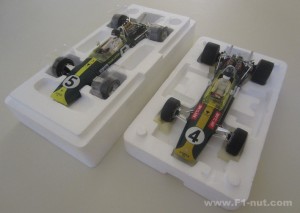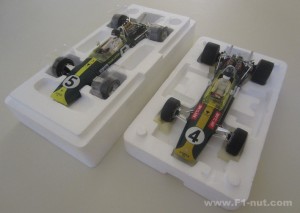 Last year I posted a review of Quartzo's 1:18 scale model of Jim Clark's Lotus 49 in which he won the 1967 British GP. I made a comment that the Quartzo compared well with the Exoto version – there are 2 Exoto's that I'm aware of: the #5 Lotus 49 1967 Dutch GP winning car and the #4 Lotus 79 winning car from the 1968 South Africa GP. I've now managed to get '68 Exoto for a side by side comparison review with the '67 Quartzo.
The Quartzo comes in a larger outer cardboard box and the foam protection case than the Exoto. Comparing the weight, the Quartzo is 320 grams vs the Exoto is surprisingly lighter at 284 grams. Measurement wise, the Quartzo is 25cm long x 11cm wide (rear tyres), while the Exoto is a shade shorter at 24cm long x 11cm wide (rear tyres).
Visually, the main differences are the extra engine and cockpit detailing of the Exoto. All the other build details however are very close between the two. Even though we are comparing the 1967 vs 1968 Lotus 49, I've seen the Exoto '67 car and the engine detailing appears to be identical to the Exoto '68.
Verdict: The build quality between the Quartzo and Exoto version is not as great as you would expect. Certainly the Exoto is not 300-400% better in quality compared to the prices of both models. The Exoto of course retains a better resale value.
Here are some close up pics:
Did you enjoy this review? You can add your own star rating of the book or DVD in the User Rating box above. Or you can add your thoughts or comments below for other readers. Make sure to also check out other similar reviews in the Related Reviews box below!