F1 diecast 1:18 review: Minichamps vs Exoto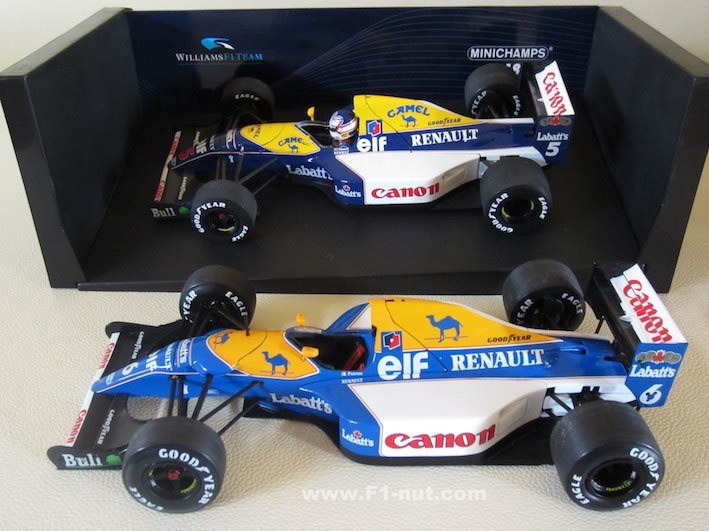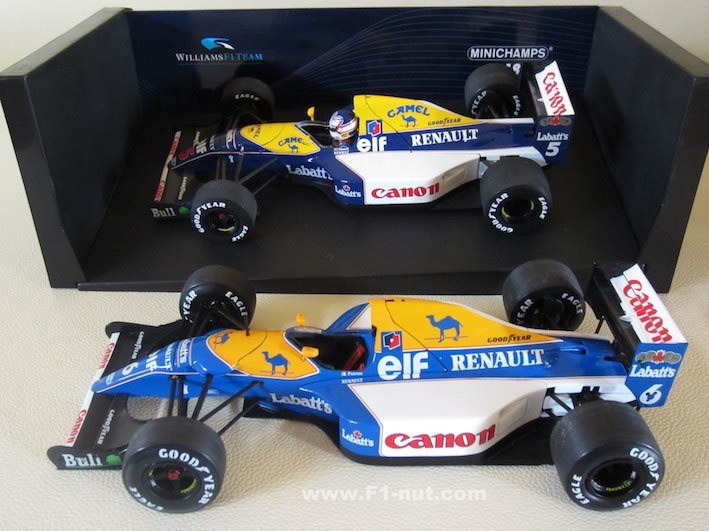 In the 1:18 scale pre-assembled grand prix model car category, most collectors are usually faced with a choice between Exoto, CMC, Quartzo or Minichamps.
I thought a Minichamps vs Exoto review might be useful to do as these are the 2 most popular brands. So I took some side by side photos of two 1:18 scale Williams Renault FW14's – a Minichamps Mansell FW14 and an Exoto Patrese FW14B for a comparison test. Check out the photo gallery.
A couple of things to note:
Packaging: Unlike their 1:43 models, Minichamps 1:18 models are boxed with a clear plastic window inside the box cover, so you can still stack the models in their boxes and the car is mounted on a sloping plastic plinth. Over time, the plastic window can warp or develop creases if boxes aren't taken care of. Exoto cars, on the other hand, are foam sealed in their packaging and most serious collectors end up using a 1:18 display case or a display cabinet to keep them away from dust and direct sunlight.
Front tyres: Both models allow front tyres to be turned
Livery: Exoto comes with the plain Camel livery out of the box as raced at the 1992 German GP. The Minichamps comes without Camel livery but the model in the photo has been converted.
Paintwork:  I've always felt the blue and Camel yellow colors on the Exoto were much richer than they should be. I have only seen a FW14B showcar in real life and the Exoto camel yellow looks accurate but the blue seems too bright. The Minichamps camel yellow on the other hand looks a little pale but seems closer to the photos of the race car I have seen.
Driver Figure: The Minichamps model includes a driver figure. The Exoto is without (Exoto's website lists a Patrese and Mansell driver figure version, although after all these years, I have never seen one in the shops or online).
Engine Detail: The Exoto has extensive engine and radiator detail whilst the Minichamps has less. Note: Not all Minichamps 1:18 models have removable engine cowlings – some of the ones that do are Williams FW14, Brabham BT52, Benetton B186, Ferrari 312T2.
Let's look at some close up comparison shots.
Did you enjoy this article? Your thoughts or comments are more than welcome using the comment box below. Or feel free to share the article with other people using the social media toolbar on the left.