F1 Diecast Review: Spot the difference – Minichamps World Champions Collections vs standard Minichamps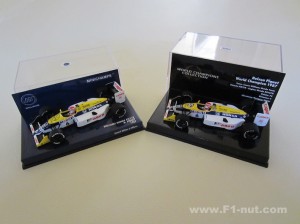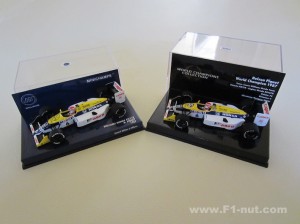 I received an email earlier in the year with a question about the difference between  Minichamps' World Champions Collection series and the normal Minichamps model of the same car. It's an interesting exercise because the World Champions Collection cars now sell for a considerable premium over the standard model. I only have a few models to use to compare, so let's take a look:
Piquet Williams Honda FW11B
Any difference between these 2 models?
Minichamps 1:43 Williams Renault FW11B's side by side. The World Champions model obviously comes in a taller high box with season stats inlay.
Here's the World Champions Collection model vs the standard Minichamps model:
If you look carefully, the models are practically identical with the only differences in the livery decals. The bodywork and driver detail are the same. The ICI decals in the World Champions Collection model however is the white on blue while the normal model has blue on yellow. Also the front wing endplates have different decals – the WCC model has Victrex and the standard model has Belfe – both authentic to the actual car's livery but from different races.
Lotus Ford 72:
Comparing the 1970 Lotus 72 doesn't show much difference either…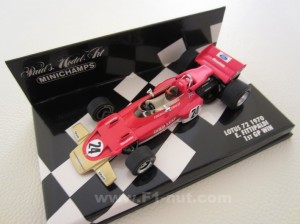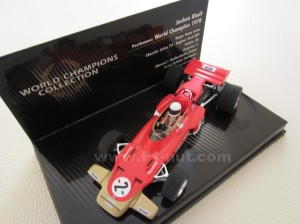 The Rindt World Champions model is an excellent model. The driver figure is detailed and fully formed, chassis is the same as the standard with only the extra rear suspension the visible difference.
1983 Brabham BT52
One World Champions Collection model where there is a distinct difference in quality is the 1983 World Championship winning car – the Brabham BT52. If you take a look at the early release standard Minichamps BT52 (Patrese model) you will see both the chassis mould and the driver figure lacks a lot of detail. In fact, due to a manufacturing error, an early version of the Piquet BT52 Minichamps was quite valuable only because it had slight variations in the Parmalat and Fila livery. The World Champions model has the reverse Parmalat livery and thankfully a much more detailed rear wing assembly and a superior driver figure.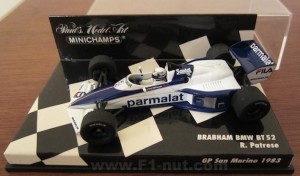 Williams Renault FW18 and FW19:
Despite the Rothmans decals, Minichamps' World Champions Villeneuve Williams FW19 has a sub-standard jelly bean driver figure whilst the Hill Williams Renault F18 has a properly detailed driver figurine:
This is most likely my last post before Xmas, so have a safe and enjoyable festive break – lots of review posts lined up for 2014…so stay tuned!