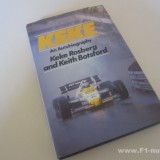 Book Review: Keke – An Autobiography by Keke Rosberg and Keith Botsford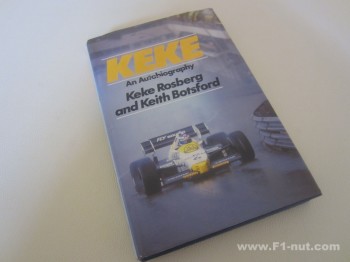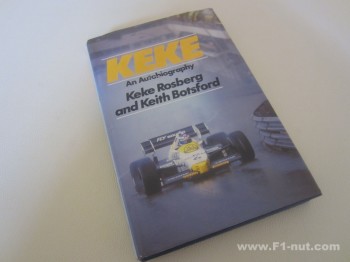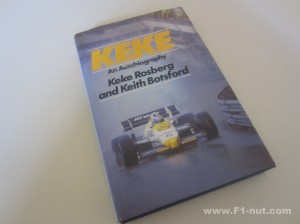 :
:
:
:
:
:
:
:
:
:
Author
:
Keith Botsford, Keke Rosberg
Publisher
:
Stanley Paul
Positives
Good historical insight into the early 1980's era of F1
Negatives
Color photos please!
Posted September 2, 2014 by
f1nut
While Nico is feeling a little heat from his brush with Lewis' right rear tyre at Spa, you sometimes forget how different his driving style and demeanor is compared to his old man, 1982 champion, moustachioed and cigarette puffing – Keke Rosberg.
This book uses the interview style format that appeared in Keith Botsford's previous book "Alan Jones – Driving Ambition".  Botsford's provides background subject comments in italics and Keke gives his straight up opinion on each topic – ranging from the age of F1 drivers (somewhat topically at the moment), money in F1, safety, FISA, Alan Jones, Gilles Villeneuve and Team Fittipaldi just to name a few.
One recurring theme is Keke's opinion on money and Keke's views on how important it is to maximise his business opportunities from F1. Although this book was written in 1985 before his final stint at McLaren – it does explain why he's been a successful driver manager in his post-F1 career.
Just like the Alan Jones autobiography, there are no color photos in this book however the photo selection includes shots of Keke in various career cars from F2, ATS, Theodore Racing, Wolf to Williams.
Given that there aren't many books published on Keke, a F1 world champion no less, for any early 1980's F1 fan this book is definitely a worthwhile read. In particular,  its great to read Keke's comments on key races in his championship year in 1982 – the season he famously won only 1 race. His views on Gilles death, being pipped by Elio de Angelis in Österreichring and being teammates with Derek Daly.
In the middle chapter, Keke also writes about how he sees the technical aspects of racing – starts, overtaking, cornering, gear shifting.
Towards the end of the book, there are 2 quick chapters on his 1983 and 1984 seasons. In typical straight shooting style, Keke's recount of his attitude to attending the French F1SA ceremony to pickup his '82 championship trophy is a blast!
Wow Factor or Money Shot: Photos of Keke in the Theodore and Wolf.
Suitable for: late 70's/early 80's era F1 fans.