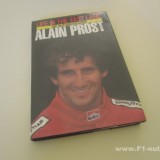 Book Review: Life in the fast lane by Alain Prost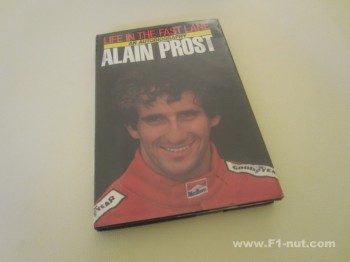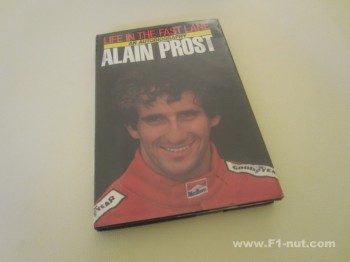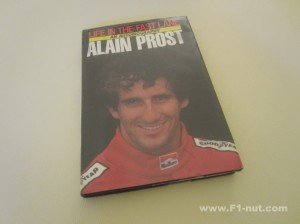 :
:
:
:
:
:
:
:
:
Author
:
Alain Prost
Photographer
:
Bernard Bakalian
Publisher
:
Stanley Paul
Positives
Insight into his early years and personal photos; Bernard Bakalian photography
Negatives
A little too many B&W photos for the late 70s era.
Posted August 3, 2014 by
f1nut
Alain Prost appeared several times last month in the news – test driving Red Bull's RB8 and weighing in on Renault's engine progress. Although Alain Prost was to later write a more complete autobiography in Viva Ma Vie, in 1988 he penned a mid-career autobiography in French "Life in the Fast Lane". It was also translated into English and covered his career up to the end of the 1988 season after Ayrton Senna famously clinched the world title in Suzuka.
In 'Life in the Fast Lane', Alain traces his childhood in Lorette, Saint Chamond, introduction to karting with his father, hooking up with Michel Fabre to rocket through the karting ranks via scholarship. He describes his early years in Paul Richard racing school in the Elf Martini, winning the 1975 Pilote Elf, moving to Formula Renault (1976), Formula Renault Europe (1976), Formula Three (1979) to testing for McLaren. It's interesting to read Alain's words on leaving McLaren for the first time in 1980 "…I was not in good enough shape and I withdrew from the race. That was it. I'd had enough of McLaren. I picked up my odds and ends and left, slamming the door behind me…". Sound familiar?
Of course, we know Alain made his breakthrough with Renault with maiden victory at Dijon at the French GP but he also gives his views on the 1982 issues with FISA/FOCA, teams breaking the regulations, falling out with Rene Arnoux, being pipped by Piquet in 1983 and leaving Renault  – "…I was tired. I wanted out..."
The next few chapters deal with Alain's McLaren world championship successes driving alongside Lauda and Rosberg. Alain also take time to mention his friendships with other Frenchmen in the paddock like Laffite.
There seems to be a lot of honest storytelling and behind the scenes facts revealed.  I found the chapters on 1987 and the introduction to McLaren-Honda partnership particularly interesting.
Prost will forever be remembered for his epic conflict with Ayrton Senna, so chapters 18-19 are a good read if you are a fan of that rivalry.
All in all a good read that ends a long way before Alain's career at Ferrari and Williams before his actual retirement.
Wow Factor or money shot: Alain's telling of behind the scenes events with McLaren.

Suitable for: 80's, McLaren and Prost fans