Thoughts: The 2013 F1 Pre-Season Debate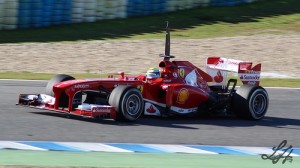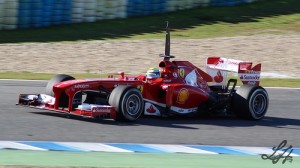 Time for another 2cents worth of opinions.
Looking at the 2013 pre-season headlines, there seems to be a couple of big themes that might shape the course of this season.
1. Financial health of the teams
There have been some troubling signs about the stability of the some of the teams. It wasn't so long ago to the dismay of many fans that F1 lost Toyota, Honda and BMW in quick succession. Now in 2013, HRT are gone (to a Spanish scrap re-cycler with Pirelli picking up a spare 2012 chassis), there are big question marks over Marussia (Bernie E's recent comments can't be helping), V.J. Mallaya's Force India Sahara's debt situation and whether the team can be isolated from the pack of hungry bank creditors, and even Martin Whitmarsh has been recently quoted saying at least 7 of the current teams are in "survival mode" (so only 4 teams are ok).
If you look at the sponsor rosters (and liveries) for each of the teams for 2013 – Lotus seems to be the only team with new major sponsors (Coke's Burn energy drinks); if rumors of Vodafone exiting McLaren at the end of this season are correct, you can probably expect a lot of the Telmex sponsorship to move over from Sauber to McLaren in 2014, which would leave Sauber needing to find a new title sponsor. Although its still pre-season, the mid-field teams seem to be carrying no new (or less) sponsors – the liveries of the Sauber, Williams, Force India, Caterham and Marussia test cars seem to have plenty of space available for sponsors. On the other hand, the top teams seem to have added or upgraded sponsorship – Mercedes have Blackberry; Infiniti logos are more prominent on the Red Bull; Ferrari have UPS, new China sponsor WeiChai Power and upgraded sponsorships with Hublot, Kaspersky Labs and TNT; with McLaren perhaps being the only big team who seem to have been quiet on the sponsorship front this year.
Added to this is that F1 in many countries seems to be moving from free-to-air TV broadcasts to Pay TV operators. The economics of this might work for the European markets (UK, Italy, France, Netherlands, etc.) where sporting fans are used to other prime time sports like football being aired exclusively on Pay TV, but the less mature F1 markets like US and Asia won't gain big growth in new audience numbers via Pay TV.  While Brazil TV numbers look like they are growing steady, the Latin American market as a whole couldn't be sustained on a Pay TV audience.
This has got to have a knock-on effect with team sponsors who are looking for exposure to global or target market audience numbers.
Its a zero-sum game, if FOM/CVC want to increase their main revenue streams – higher broadcast rights fees from Pay TV operators and higher race sanction fees from track operators/host country governments, to dress itself up for its October IPO on the Singapore Stock Exchange – the teams (especially the mid-field) are going to need a bigger cut of the pie. I posted some thoughts about the Concorde Agreement deliberations  back in August, and it seems that it still isn't fully sorted out. Although there's nothing like an IPO and investment bankers to get things moving. You would have to think the core big teams (Ferrari, Red Bull, McLaren and Mercedes) are protected species under any commercial arrangements with FOM and the lower teams will be left to free market forces for their survival.
The cost of the new V6 turbos in 2014 is also touted as major costs headache for the teams. The engine manufacturers (looking more like it will only be 3 suppliers – Mercedes, Ferrari and Renault, with Cosworth potentially dropping off) want it and the teams (and Bernie E) don't? As usual its all down to money. Fans (the ultimate stakeholders in F1) will still want to see some competition in the constructors and there probably is room for another 4th high profile engine supplier. Its difficult to see Honda or Toyota (Lexus?) or even BMW returning anytime soon (they may even see the hybrid engine racing series as more commercially attractive), but I'm sure Bernie E wouldn't mind if Audi came on board.
Prediction: It too early to call if more teams fall by the wayside by the end of season. Having a guess at the way revenues are structured and the built-in favoritism to the big teams, I personally think the return of 3 car teams or the big teams all officially nominating one the mid-field teams as their sister/junior team and running with chassis from the previous year could soon be a reality.  The current Red Bull/Toro Rosso arrangement is an example and Honda/Super Aguri was another recent example of engineering collaboration. Global sponsors are going to gravitate even more to the top teams as TV broadcasters  focus most of their air time on these cars. 3 car teams would be great, the 3rd seat could be a guest driver seat (for example, Kamui, Vitaly or Bruno driving for Ferrari, Red Bull or McLaren at their respective home GPs) which would suit the fans.
2. Influx of Pay Drivers and the loss of established drivers
A lot of fuss is being made about the large contingent of new drivers this year (Gutierrez, Chilton, van der Garde, Razia, Bottas) that supposedly have been chosen for their financial backing over some of the more established names (Kamui Kobayashi, Vitaly Petrov, Bruno Senna, Heikki Kovalainen, Timo Glock) who have had to make way and won't be on the grid in 2013. If media reports are accurate, the outgoing drivers were all on paid salaries in 2012 – Heikki (€4m), Timo (€3m), Kamui (€1m), Vitaly (€500k) and Bruno (€250k). Given Caterham and Marussia's situation and the reported salaries paid, the exit of Kovalainen and Glock are no brainers. As a fan, I have soft spot for the exciting but inconsistent Kamui Kobayashi who has sponsorship potential if he had the opportunity to rack up one or two race wins and Vitaly Petrov who is deserving of a better seat than last year's Caterham (and given the fact that he brought home P10 for Caterham in the constructors championship in the last race in Brazil).
I've been a little surprised that Paul di Resta has been retained by Force India for 2013 (his race and PR performances are a bit uninspiring compared to say Nico Hulkenberg and other mid-field peers) but if he is only on a reported €200k retainer and with Mercedes engine ties, then it probably makes sense.
Prediction: Only Bottas and Gutierrez with the mid-field teams have any real pressure or expectations to perform. Caterham and Marussia and their rookie drivers will be consigned to the back of the grid for most (if not the whole) season.  Like a lot of people, I expect Bottas's Finnish temperament to help him perform well this season and Williams might be able to get their technical act together with the FW35 to surprise again this season but on a more consistent basis. The Sauber should still be handy on the high speed circuits this year, so Gutierrez should be able to make occasional top ten finishes.
The two drivers who seem to be under pressure to have a "make or break" season in 2013 right from the start are Grosjean and di Resta.
Note: Photo image by Leo Hidalgo under Creative Commons Attributions License 2.0.