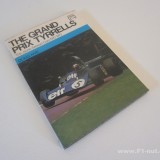 Book Review: The Grand Prix Tyrrells Jackie Stewart Cars 1970-1973 by Doug Nye
Formula 1 cars in the early 1970's had very muscular look distinct to that era – high airboxes, wide noses and big fat rear tyres. Tyrrell, Lotus and McLaren were the dominant teams but the Jackie Stewart-Tyrrell Ford combination is etched in F1 history. Doug Nye's "The Grand Prix Tyrrells" is a short study book that traces the evolution of the Derek Gardner designed Tyrrell Ford race cars (001, 002, 003, 004, 005, 006, 006/2 and 006/3) from the 1970 to 1973 F1 seasons. This book was in association with the Donington Collection which has a few of these historic cars parked in its collection.
Doug Nye includes a lot of interview quotes from Ken Tyrrell and Derek Gardner. I found the insights into Derek Gardner's design and background history of the cars' development really fascinating to read.
The old archive B&W photos are book's best feature – they are great for close up study. There are many photos that I have rarely seen in the auto magazines like Derek's Gardner's wooden 001 mock-up, the 001 showcar, the 003 with the rear radiator wing at Monza and the test double front wing on the 005 at Paul Ricard, to name a few. There are also plenty of detailed close up shots of the brake ducts, cockpits and engines for the technically minded reader.
One minor drawback is the limited  color photos in the book, even though the Tyrrell's were predominantly blue and white with some sponsors, the 006 still looks a lot sharper in color!
French fuel suppliers Elf get the honors to pen the book's foreword.
It's a shame this book wasn't updated to cover the Scheckter era Tyrrell 007 and P34 but for Tyrrell Ford fans, this book is pretty much the one to have.
Wow Factor/Money Shot: Drawing of Derek Gardner's bi-finned aero concept 006 prototype (see page 47 of the book!)
Suitable for: 70's F1 fans