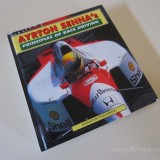 Rare Book Review: Ayrton Senna's Principles of Race Driving by Ayrton Senna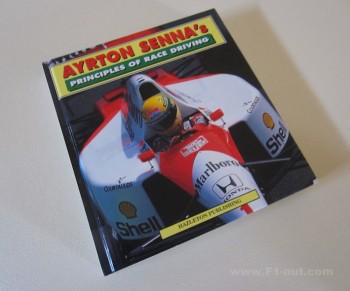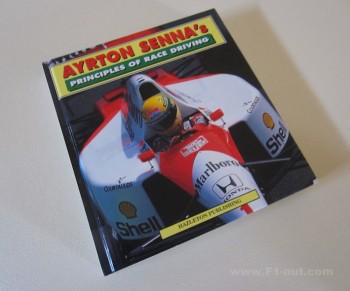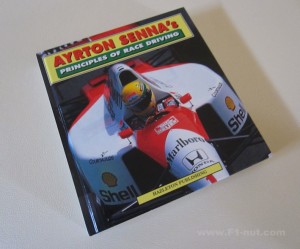 :
:
:
:
:
:
:
:
:
Author
:
Ayrton Senna
Publisher
:
Hazleton Publishing
Positives
Technical racing guide in Ayrton Senna's own words and photos
Posted February 10, 2013 by
f1nut
There have been a few technical race driving books published by F1 drivers over the years, including Jackie Stewart's 'Principles of Performance Driving', Alain Prost's 'Competition Driving' and Niki Lauda's 'The Art and Science of Grand Prix Driving"; however they all somehow pale into comparison with the comprehensive words of Ayrton Senna's 'Principles of Race Driving' which was first published in 1993. This book is now one of the rarer Senna books in circulation, with the hardcover version being more valuable, although the softcover version is identical in content.
Principles of Race Driving  is purely a driver instructional book, it doesn't indulge in any of Senna's views on Prost, Mansell or Balestre, etc. – each of the book's 24 chapters are dedicated to key aspects of race preparation and track racing from Senna's own perspective.
The opening chapters start with the basic seating position in the cockpit, different hand steering techniques and foot pedals with some very useful panel photos with Senna in the cockpit. The next 2 chapters deal with cornering techniques, finding the correct racing line through different corners and throttle control through the corner. The other chapters cover a range of important topics such as accelerating, gear changing, using tyres, accidents, driving in the wet, car testing, interpreting car behavior, car setup and gear ratios, warm-up and formation lap, race start and opening laps, overtaking, slipstreaming, pit signals/tactics and flag signals.
The photography in the book is good with a mixture of shots that are helpful to the chapter content. There are also instructional diagrams to explain cornering, spins, wet racing lines and overtaking.
If you're a budding karter or weekend racer, you will find at least one or more helpful tips inside this book.
Comparing this book to say, Niki Lauda's The Art and Science of Grand Prix Driving', Senna's book is much more focused on the human driver technique and interaction with the car whilst Niki Lauda's book covers much more engineering aspects of setting up the car rather than driving styles. I'll try to post a review of Niki's book too sometime in next few months….
Not only does the book focus on technical aspects of driving, the last chapters provide a more holistic view of driver fitness, diet and psychology which is more a testament to Senna's complete dedication to the non-driving aspects. Nowadays sports science is much more sophisticated but even these chapters are interesting in reading from Senna's own examples of exercise routines and controlled lunch and dinner menus. I think the last chapter on psychology, is probably the most interesting considering how famously intense Senna was, so his views on breathing and mind management is an intriguing insight.
Even though this book was written in early 90s where F1 cars had manual gear stick shifts and basic semi-automatic gear paddles, the content is still relevant to today's modern race cars. If you're a budding karter or weekend racer, you will find at least one or more helpful tips inside this book. This is a different style of book and even if you aren't an amateur racer, the Senna perspective alone is worth reading.
Wow Factor: Great instructional photos including Senna himself. Nowadays, this book also carries a rare price tag, so its a useful addition to have for any collector.
Suitable for: Budding sports drivers and Senna fans.
Did you enjoy this review? You can add your own star rating of the book or DVD in the User Rating box above. Or you can add your thoughts or comments below for other readers. Make sure to also check out other similar reviews in the Related Reviews box below!