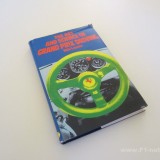 Book Review: The Art and Science of Grand Prix Driving by Niki Lauda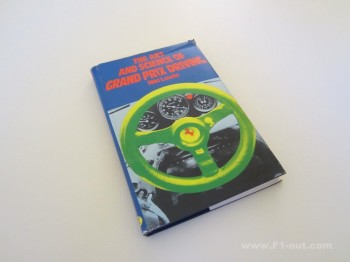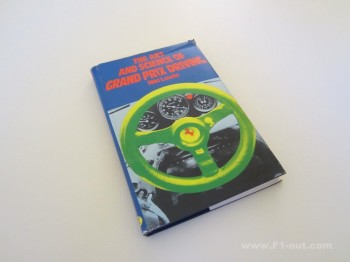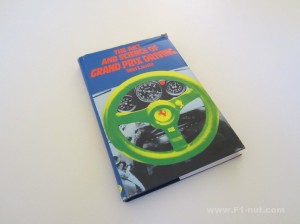 :
:
:
:
:
:
:
:
:
Author
:
Niki Lauda
Positives
Great insight into the mind of Niki Lauda, the 312T and historic race tracks circa 1975
Negatives
Limited color photos; a lot of the technical photos would have been fantastic in color
Posted September 5, 2013 by
f1nut
With the release of Ron Howard's Rush movie this month, there will be lots of renewed interest in Niki Lauda and James Hunt. Time to hop on the bandwagon and dust off some Lauda and Hunt books that might see some fresh interest again! First up, lets check out Niki's 1977 technical driving book "The Art and Science of Grand Prix Racing" with a kind of Andy Warhol make-over of a photo of the steering wheel of the Ferrari 312T. This was Niki's first book and the English translation of his German book, Formel 1.
As much as this book is intended to be race driver's perspective on grand prix driving or Niki's own diary of '75-'76 seasons, it's also a very detailed look at the Ferrari 312T that Lauda and Regazzoni raced in 1975. There's lots of close-up photo content here for modellers and fans of the 312T to study – flat V12 engine, suspension, tyres, roll bar, cockpit, dash, etc.
The book is split into a few different chapters:
the opening chapter is a transcript of an Herbert Völker interviewing Niki about driving, fame and his '75 accident.
Technical Principles – very technical explanation of some of the technical issues relevant to car performance – friction co-efficient, wheel loading, anti-roll bar, camber, roll axis, centre of gravity, petrol tank layout, wheelbase
312T technical specifications
Inside the 312T cockpit, engine, transmission, differential, tyres and suspension. The book give some very detailed description of the 312T components and how to diagnose setup faults.
Driving – driving on straights, gear changes, getting airborne, cornering.
Testing and training – this chapter includes a very useful diary of Niki's mechanical gremlins during the 1974, 1975 and 1976 seasons. Going for pole and slipstreaming is also covered.
The Race – the start, checking instruments during the race, fighting for position and tactics, overtaking, pitstops and rain.
Fitness preparation
Final chapter is a BBC transcript of an interview with Harry Carpenter on 13 Oct 1976 just before Suzuka.
With the Rush movie now playing, a few of Niki's comments in the book will interest readers especially about his accident and the showdown in Suzuka '76. Some more interesting comments are about memories of his accident at the Nürburgring;  how to handle the car getting airborne over the famous hump between Pflanzgarten and Swallowtail at the Nürburgring; his top 10 toughest corners in F1 – Barcelona (hump), Brands Hatch (Clearways and Paddock bend), Interlagos (curva 1 and curva 2), Monza (lesmo), Mosport (downhill left before the hairpin), Nürburgring (Pflanzgarten and Swallowtail), Zeltweg (Hella bend), Silverstone (Woodecote), Watkins Glen (Bridge) and Zandvoort (Scheivlak). Its also funny to read Niki's memories of being irritated by horse hair in the cockpit and not bothering with including racing line diagrams because all drivers will instinctively find it. Seems like a no nonsense, no sh*t sort of character.
Niki also describes his toughest race (Monaco '75), easiest race (Zandvoort '74), most dangerous situation (Nürburgring '76 accident), Japan '76 (championship deciding race in the rain) and favourite track (none!).
The black & white photography is perhaps the book's only let down – often the photo contrast is too dark or the image too grainy. On the plus side, there are plenty of closeup engine, chassis, tyre, brake photos of the 312.
If you are a Niki Lauda fan, this book is a must. As a technical driving guide, it does quite as impressive as Ayrton Senna's Principles of Race Driving. Niki's book contains much more mechanical and technical content and also a lot of Niki's views on the sport, other drivers and his races. Senna's book is purely about driving minus the personalities or politics.
Wow Factor or Money shot: photo of Niki using the safety latch to engage reverse gear on the 312T2.
Suitable for: Lauda, tifosi and 70s F1 fans.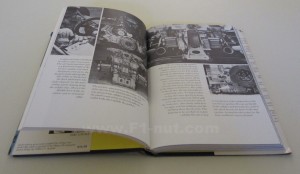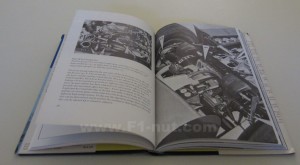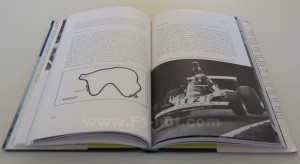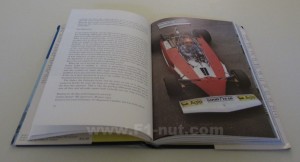 Did you enjoy this review? You can add your own star rating of the book or DVD in the User Rating box above. Or you can add your thoughts or comments below for other readers. Make sure to also check out other similar reviews in the Related Reviews box below!