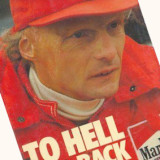 Book Review: To Hell and Back by Niki Lauda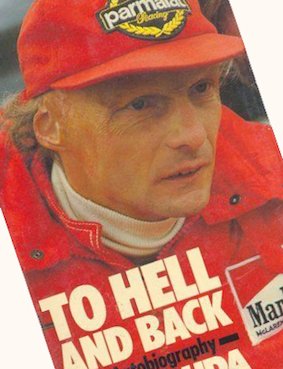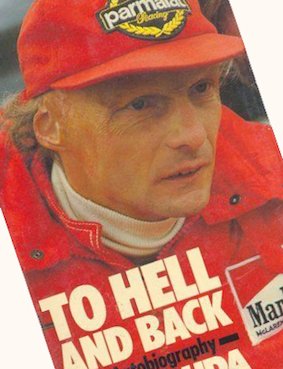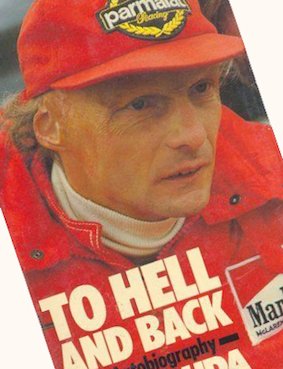 :
:
:
:
:
:
:
:
:
Author
:
Niki Lauda
Positives
Great personal insights
Negatives
Maybe a little short; NikI's entire race career in 200 pages?
Posted June 26, 2015 by
f1nut
Ever since Ron Howard's Rush movie, like many 1976 F1 season memorabilia, the resale price of Niki Lauda's autobiography "To Hell and Back" has increased markedly (especially the hard cover edition). 'To Hell and Back' is one of many books Niki wrote with Herbert Volker including "For the Record: My Years with Ferrari" and "Second Time Around". The key difference with this book compared to Niki's earlier books is the full coverage of his career (from childhood to final retirement in 1986) and much more photography (including many beautiful color race photos).
Although the book was originally in German, reading the English edition you get a real taste of Niki's no nonsense narrative style. Some of the conversations he recalls with Ferrari and Ron Dennis comes across with vintage Lauda sarcasm and straight talking. Itss easy to see how certain scenes from the Rush movie could have been lifted straight from the pages of this book  – e.g. early days at Ferrari, Nürbürgring. In fact his career at Ferrari and the 1976 Nürbürgring accident are only given 2 chapters in the books's total 17 chapters.
In almost every chapter, Niki gives some interesting insights and background – the Brabham BT46 fan car, his McLaren stint and interactions with Ron Dennis, his flying hobby and political hurdles to operate Lauda Air, his personality differences with his wife, his retirement at Adelaide in 1985, etc. the list goes on.
Niki also offers views on his favorite drivers (Piquet, Hunt, Villeneuve and Prost) and not so favourite ones (Reutemann).
This is clearly one of the better Niki Lauda books for photos – there are personal childhood photos, lots of Ferrari 312, Brabham and McLaren race car photos and amazing photos of the Nurburgring crash in '76. All in color too!
All up, this book is probably the definitive Niki Lauda book to have. It is a great & entertaining read – more so if you're a fan of the 70's and 80's era of F1 racing.
Wow Factor/Money shot: Niki's wrecked 312T2 after the Nürbürgring crash.
Suitable for: Niki Lauda and 70s F1 fans.