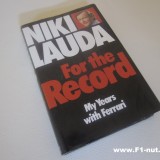 Book Review: For the Record My Years with Ferrari by Niki Lauda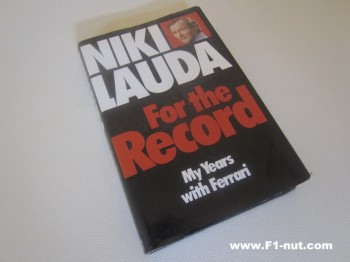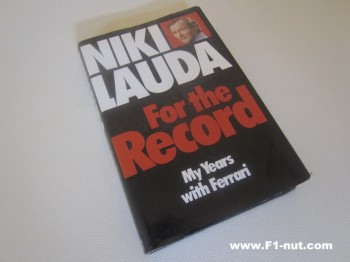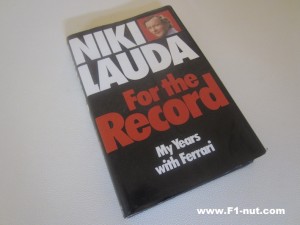 :
:
:
:
:
:
:
:
:
:
Author
:
Niki Lauda
Publisher
:
William Kimber
Positives
Niki Lauda at his straight talking best
Negatives
The second half of the book is a little wayward
Posted February 27, 2015 by
f1nut
During this season's testing, Niki Lauda has been in the media drumming up Ferrari's form. Apart from his many exploits on the track, Niki Lauda is also famous as a straight shooting F1 driver/team boss/commentator. His book "For the Record – My Years with Ferrari" published in 1977 (just after his high profile exit from the Scuderia) is a real take no prisoners, warts and all diary of his years at Maranello. If today's drivers are considered to be PR robots, then Niki circa 1970s was a real tearaway.
This book is in three parts: Part 1 contains 20 chapters and through a series of tape interviews contains various snippets of Niki's time at Ferrari from 1973 to 1977. Part 1 is definitely my favourite section of the book. In fact it reminds me of another F1 driver book of 2 halves: Sabine Kehm's "Micheal Schumacher- Driving Force". Niki gives his frank comments on his relations with various Ferrari team managers (Audetto), team mates (Regazzoni, Reutemann), the Old Man himself (Enzo Ferrari), Nürbürgring accident, his Monza comeback, contract negotiation and his final resignation. When reading Lauda's comments on his resignation, one wonders if Fernando's departure from Ferrari last year was any less political…
Part 2 with 5 chapters is narrated by Herbert Völker and he has deliberately tried to provide his own views on Niki and aspects of his career to balance out Niki's direct commentary in the first section of the book.  Völker also includes various fan letters to Niki and his own perspective on Lauda's  PR and sponsor mercenary skills.
Part 3 covers his early career in Austrian racing and third party reflections on his stint at March STP Racing with Ronnie Peterson. In this section, Niki also talks about living on the edge of his 'clever' sponsorship deal with BRM and his BMW touring car racing to keep his career afloat. Finally, at the back of the book there is an appendix of all of Niki's races from 1968-1977.
All through the book Niki cuts loose on Ferrari management personnel  and gives us an insight into the political culture within the team at the time (or possibly even now…)
Here are some choice quotes:
On Mauro Forghieri (team engineer) : "He has got the psychological finesse of a sand viper." (page 28)
On James Hunt: "He is of all the drivers the one I like best." (page 70)
Enzo Ferrari is simply 'the Old Man" and full of rants. Classic stuff!
I've posted reviews of other Lauda books previously such as "Art and Technicalities of Race Driving" but if you enjoy reading unrestrained driver memoirs – this one is great.
Of course, since the release of the movie "Rush" all 1970's Hunt and Lauda memorabilia (models especially) have skyrocketed in price. I can't believe that dilapidated copies of Niki's other autobiography "To Hell and Back" are now selling for over $100!
Ok, this book contains a lot of one sided Niki Lauda points of view and if you're a loyal tifosi it might even be a little sour grapes from Niki. Putting that aside, if you're interested in the mid-1970 F1 era, the personalties of the time and all the behind the scenes contracts and politics – this fits the bill. Even modern day F1 fans will find this an entertaining read.
Wow Factor/Money shot: Straight shooting from the man himself
Suitable for: Lauda fans, tifosi and 70s F1 historians