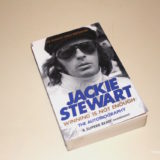 Book Review: Winning is not Enough by Jackie Stewart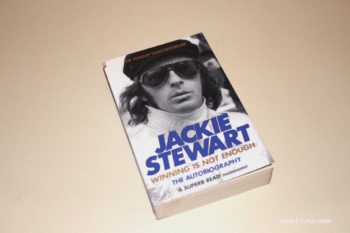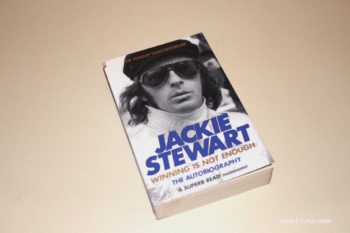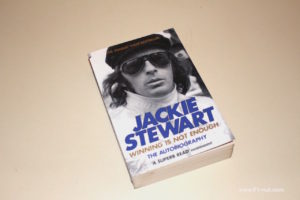 :
:
:
:
:
:
:
:
:
Author
:
Jackie Stewart
Publisher
:
Headline Publishing
Positives
Great behind the scenes stories jammed into 550+ pages spanning Jackie's entire career
Negatives
None. The softcover will wear easily, so get the hardcover if you can
Posted November 5, 2016 by
f1nut
Having watched many excellent Sir Jackie Stewart DVDs and film/TV interviews, I had never really bothered to read his autobiography "Winning is Not Enough" despite it having been a bestseller. I only recently pulled my unread copy off my bookshelf and even though not a self confessed Jackie Stewart fan, I now understand why this book has received so many great reviews.
Winning is Not Enough is one of the better and more complete F1 driver autobiographies published. The book spans not only Sir Jackie's racing career but also his re-racing career as a world class shooter and post-racing career as a TV sports commentator, Ford motorcar QA tester, corporate brand ambassador and GP winning F1 team owner.
Reading through each chapter reveals many career facts I wasn't even aware of – negotiating with Enzo Ferrari to be a Ferrari driver and the first driver ever to spray champagne on a F1 podium…
Of course, there are also sections of this book that are particularly emotional and touching – family health battles and the deaths of his close racing friends, Rindt and Cevert. There's even something for Senna fans with a recount of Jackie's famous TV interview with Ayrton in Adelaide 1989.
With such an illustrious career, there is no shortage of name dropping in this book from the big names in F1, royalty, prime ministers to multinational CEOs. Dedicating a chapter to King Hussein of Jordan seems a little unusual. How about a chapter on his labrador and terrier dogs?
I always look for honest controversial opinions, details of personality clashes or personal revelations as a sign of a good driver autobiography (Mark Webber's Aussie Grit is a good recent example). This book has lots of revelations (including dyslexia) but true to Sir Jackie's statesman like correctness – he doesn't antagonise or demonise anyone in the book (which is a slight shame as I'm sure F1 driver's are never far away from personal conflicts).
Although there aren't many, several of the photographs in the book are from Jackie's own private family collection.
I most enjoyed the chapters on Jackie's years with Ken Tyrrell – the fact that Jackie never had a written contract with Ken Tyrrell speaks volumes for their obvious trust in each other. On the commercial side of F1, the chapter on Jackie's personal negotiations with Ford, Malaysian government and sponsors HSBC, HP, EDS, MCI to form the Stewart Grand Prix Racing team make interesting reading.
This book is easy to read with a conversational tone that could quite easily be Sir Jackie talking by the fireplace over a Scotch whisky or as a guest speaker at a function. Winning is Not Enough will take several sittings to read – but that's part of the joy of the book.
Wow Factor/Money Shot: 550+ pages
Suitable for: 60's/70's/80's/90's F1 fans; Tyrrell and Stewart fans