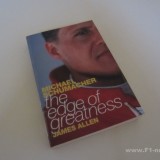 Book Review: Michael Schumacher – the edge of greatness by James Allen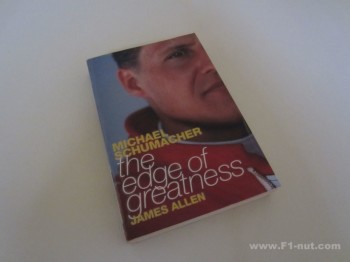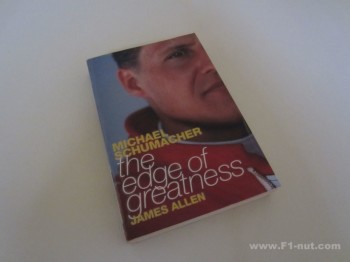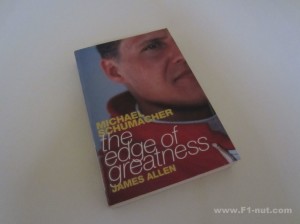 :
:
:
:
:
:
:
:
:
:
Author
:
James Allen
Publisher
:
Headline Publishing
Positives
Well researched with great interview quotes from F1's who's who
Negatives
Photo panel layout - a lot of unused page space?
Posted July 23, 2013 by
f1nut
Its curious to see the success of Mercedes GP this year and wonder whether the departure and 2nd retirement of Michael Schumacher last year has helped the team to move up the grid in 2013. While we wait for an updated official Schumacher biography, James Allen's 'Michael Schumacher – the edge of greatness' is an interesting comparative book to the most recent Schumi biography "Driving Force" back in 2007 by Schumi's manager Sabine Kehm which I also reviewed last year.
James Allen's book opens with the controversial weekend of Monaco GP in 2006 where Michael parked his Ferrari on the racing line after setting pole and destroying Fernando Alonso's and other drivers opportunity to grab pole. The quotes from Mark Webber throughout the book are really interesting.
Each chapter looks at several aspects of Schumacher as a driver and tries to explore his early background to better understand his famous aggressive on track tactics and his less known off-track generous nice guy personality. Allen traces pivotal moments in Schumi's early karting days, controversial win against Mika Häkkinen in Macao 1990, his maiden race for Jordan at Spa in 1991, on track clashes with Senna, weekend at Imola 1994, the infamous Jerez battle in 1997, his accident at the 1999 British GP and final Ferrari success in 2000. This book is not a season by season account but more of digger behind the scenes of some key events during Michael's career.
Most of the book deals with his Ferrari exploits and his time at Jordan and Benetton (where he won the '94 and '95 championship) surprisingly get only brief coverage. There is some discussion about the Silverstone black flag penalty in 1994 but the '95 season barely gets a mention. Relations with brother Ralph also get a short chapter. Jean Todt and the Ferrari culture gets some examination.
Allen regularly injects insightful quotes in the book from knowledgable sources in the F1 paddock. The quotes from Eddie Irvine, Frank Dernie, Ross Brawn, Rubens Barrichello, Mark Webber and Max Mosely.
Although James Allen appears to have access to many of Schumacher's close associates and other drivers, most of the Schumacher quotes seem to be excerpts from interviews in the German press, so this is not an official biography.
I have to admit this book is only a recent addition to my collection and even though I'm not die-hard Schumi fan and that it was published 6 years ago, its still a very entertaining read.
Wow factor or Money Shot: Not the photos, but the candid quotes from inside sources.
Suitable for: No so much only for Schumi fans but F1 historians looking for some mixed perspective.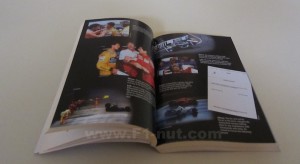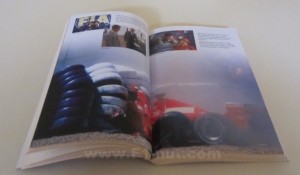 Did you enjoy this review? You can add your own star rating of the book or DVD in the User Rating box above. Or you can add your thoughts or comments below for other readers. Make sure to also check out other similar reviews in the Related Reviews box below!