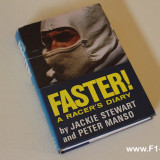 Book Review: Faster! A Racer's Diary by Jackie Stewart and Peter Manso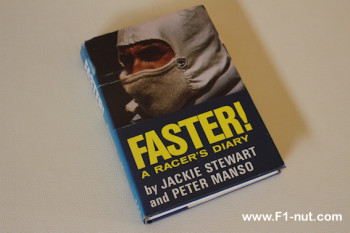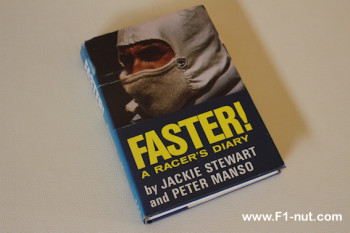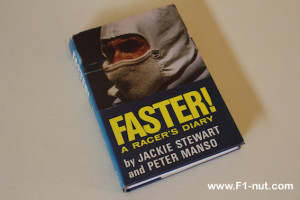 :
:
:
:
:
:
:
:
Author
:
Jackie Stewart, Peter Manso
Publisher
:
Farrer Strauss and Giroux
Positives
Detailed personal account of the 1970 season in the words of Jackie Stewart himself
Negatives
Not enough photos
Posted July 10, 2016 by
f1nut
British GP time! No doubt Sir Jackie Stewart will be present somewhere. I recently dusted off his diary called "Faster! A Racer's Diary" which Sir Jackie co-wrote with Peter Manso (author of Vrooom!!). This book is an interesting peek into Sir Jackie's mindset during the 1970 F1 season in-between his 1969 and 1971 championship winning seasons.
Looking back its funny how the diary opens on late December 1969 with so much apprehension with the recent death of Jim Clark, no Matra engines and the fear of Dunlop withdrawing.
Even ready this again in 2016, almost 50 years later – the diary format still provide a lot of great insights into the mind of a world champion driver during a race season including testing duties, race preparation, the race itself and also off track activities like sponsor events and holidaying with other drivers.
Many of the book's diary entries are daily during the key race weekends. I found Sir Jackie's diary notes on the Monaco GP particularly interesting (won by Jochen Rindt from Jack Brabham). Also, he gives some very frank views about other F1 drivers at the time (some of them unapologetically negative) – Jacky Ickx, Jack Brabham, Chris Amon, Pedro Rodriguez, Graham Hill and Denny Hulme.
The early 70's of course was marred by regular driver deaths but deaths of Sir Jackie's close friends Piers Courage and Jochen Rindt are told from a very personal chaotic perspective that you wouldn't get from reading F1 history books.
Photograph wise there are only a scant few B&W photos.
Considering 1970 was his transition year in-between his 1969 and his back to back championship, a lot of the diary entries contain a lot of raw emotion and doubt. It funny that these 200 odd pages covering 1970 cover so much depth to that season compared with the short chapter in Sir Jackie's later autobiography "Winning is Not Enough".
For fans who enjoy films like Frankenheimer's Grand Prix and Grand Prix the Killer Years, this book is an excellent first hand account of F1 racing in the 70s. This is also one of the few F1 books that provides a driver's account of the many of the in-season testing sessions.
Wow Factor/Money Shot: Jackie's preparation for Monaco 1970
Suitable for: Stewart and 70s F1 fans.