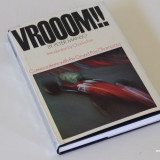 Book Review: Vrooom!! by Peter Manso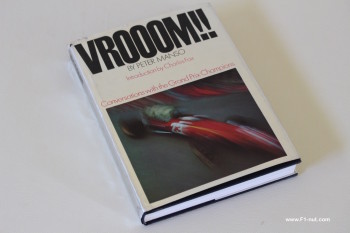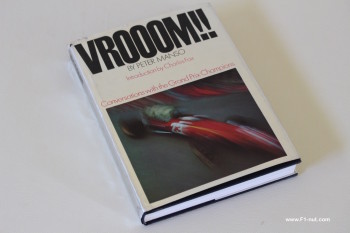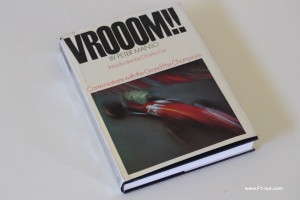 :
:
:
:
:
:
:
:
:
Author
:
Peter Manso
Posted February 17, 2016 by
f1nut
Time to dust off a book from the vault circa 1969 – Peter Manso's "Vrooom!!". The book contains a series of interviews with top GP drivers of the late 60's. The Q&A definitely reflects the early romantic era of  F1 – fearless cigarette smoking drivers balancing bravado on & off the track with the very real risk of driver injury or death around the corner.
The book contains interviews with 10 big name F1 drivers of that era: Joakim Bonnier, Dan Guerney, Jacky Ickx, Innes Ireland, Bruce McLaren, Stirling Moss, Jochen Rindt, Pedro Rodriguez, Jackie Stewart and John Surtees.
Photography is a little sparse and all black & white — although the photos are by the author and Alan Heald, most are limited to very non-descript head photos.
Each interview asks different questions but tends to follow a few recurring themes –  the driver's family background and how they got started in racing, thoughts on racing injury or death on the track, personal views on F1 as sport, racing in other categories, whether they smoke or drink, etc. With the author being America, a number of drivers are asked about their view on Indianapolis. Some of the questions stray away from pure F1 issues – e.g. the Surtees interview gets bogged down with politics and South Africa, Jackie Stewart gets asked about singers and actors…
The one striking feature is the tone of some of the driver's replies. Obviously the issue of injury and driver mortality was a much more real issue in those days but Dan Gurney's comments on his own accident at Zandvort amazed me.
Books like Vroom!! are rare as many F1 magazines publish these types of interview but Vrooom!! is very much a reminder of F1 yesteryear and how attitudes have changed so much along with the sport.
Wow Factor/Money Shot: Nothing very unique about the B&W photos but not many books feature detailed interviews with Dan Gurney, Bruce McLaren and Pedro Rodriguez in the same book.
Suitable for: early 70's F1 fans