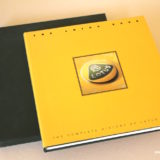 Rare Book Review: The Lotus Book by William Taylor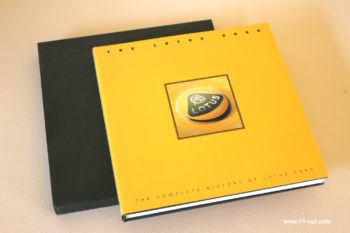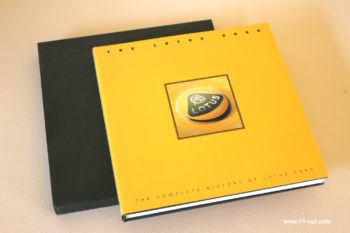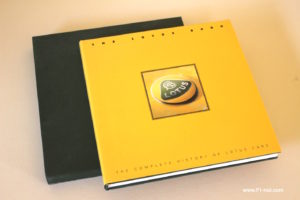 :
:
:
:
:
:
:
:
:
Author
:
William Taylor
Publisher
:
Coterie Press
Positives
Excellent photos and historical notes
Negatives
Nothing - although don't expect it to cover Lotus' recent history under Proton ownership
Posted December 17, 2016 by
f1nut
As a F1 book collector, its no secret to readers of this site that one of my favourite publishers are Coterie Press. William Taylor's "The Lotus Book: The Complete History of Lotus Cars" was released some while back in 1998 and it preceded the layout style that would also be used in another excellent Taylor book "McLaren the Cars".
This book which marked Lotus' 50th anniversary, isn't solely dedicated to Team Lotus grand prix cars but also features its famous road and sports cars too. If you're a fan of the Lotus Elise and Espirit, these cars are profiled.
Each car gets a 2 page writeup with a brief background and technical specifications included.
William Taylor's photography is excellent – lots of archival photos, angled profile shots of the cars from top, rear, front, side and plenty of close up photos of tyres, cockpit, suspensions, wings and engines. In addition to car photography, Taylor includes various photo snippets of historic memorabilia related to the car – e.g. notes from Colin Chapman's notebook, newspaper clippings, race tickets, PR flyers, etc.
Starting with an introductory foreword by Colin Chapman's wife Hazel, the book is split into several chapters:
chapter 1: 1948-1959 – early Mark 1 trial car, Seven S1, sports racer, Graham Hill's Type 16
chapter 2: 1960-1969 – Type 21 F1 car, Type 25, Type 56B
chapter 3: 1970-1979 – Type 72, 76, 77, 78, 79, 80, 81,
chapter 4: 1980-1989 – Type 86, 87, 88, 91, 92, 93T, 95T, 97T
chapter 5: 1990-1998 – Type 102, 107B
Published in the late 90's the book obviously doesn't cover the recent Tony Fernandes era Lotus Racing F1 cars or the Renault powered Lotus team of 2010-2012.
At 255 pages with the heavy grade paper, hardcover binding and slip case – its the usual quality expected from a Coterie Press book. The 1st edition is a harder to find these days but series 2 and series 3 books can be picked up in book stores and online. This book is definitely highly recommended for collectors.
Wow Factor/Money shot: My favourites are the pages covering the JPS Lotus 86 to 98T cars, however the various Formula 2 & 3 cars, Lotus 56B rate a mention too.
Suitable for: Lotus and F1 history fans