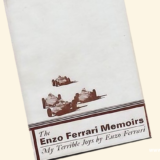 Rare Book Review: The Enzo Ferrari Memoirs: My Terrible Joys by Enzo Ferrari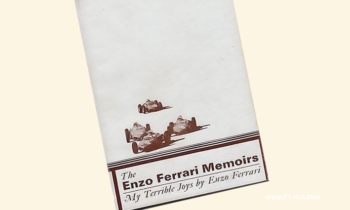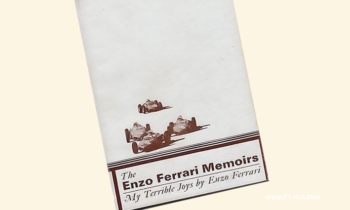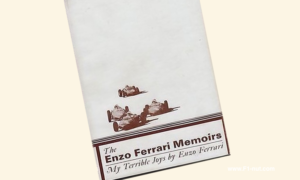 :
:
:
:
:
:
:
:
Author
:
Enzo Ferrari
Publisher
:
Hamish Hamilton
Positives
The Commendatore's early days in his own words
Posted January 23, 2017 by
f1nut
Whenever there is political unrest within Ferrari, I always can't help imagining what the great il Commendatore would be thinking. In 2017, we can only look back at some of the few books written by Enzo himself for some guidance. "My Terrible Joys" written by Enzo, was published in 1963 (translated to English) and while in parts it is autobiographical, it also provides a lot of insights into his opinions of the team, drivers, engineering and sport at the time (and also his superstitions).
I didn't know Enzo wanted to be an opera singer or sports writer more than a race driver. Luckily for grand prix and the motor industry, he followed his passion for race driving after being rejected by Fiat and raced for lowly CMM then Alfa Romeo. Enzo provides details of his various personality clashes with motoring industry folks including Alfa's new Spanish engineer Ricard, how he managed the Scuderia Ferrari within Alfa Romeo and even the origins of the prancing horse logo.
Chapter 2 reviews the drivers – Nuvolari, Ascari, Campari, Varzi, Hawthorn, Fangio (who he responds to Fangio's allegations about Enzo in his book), Collins, Bandini, Rodriguez, Moss (who he highly rates alongside Nuvolari). In fact, Stirling also pens the book's foreword.
In Chapter 3, Enzo discusses the race day, the role of drivers and why he doesn't attend races. Chapter 4 is an interesting view of memorable customers who have come to Maranello. Chapter 5 is about women in grand prix motorsport which is I found surprising and enlightening from an patriarchal Italian male in the 1960s.
The last chapter is Enzo musing on the rationale and ethics of the sport including responding to complaints by the Vatican and Catholic papers criticising him for the racing deaths of drivers. Indeed Enzo keeps to himself and wishes for the return of the Mille Miglia race. He also talks of the long future of piston engines – you wonder whether he would be in favour of the today's hybrid engines.
The photos in the book are naturally all B&W – there aren't many that feature Enzo (except for a young Enzo in the Targo Florio in 1920) most are race photos and fairly low grainy quality.
Enzo would 2 decades later release the excellent "Piloti, che gente…" which offers a better and more comprehensive review of Ferrari drivers by the great man. If however, you want insight and Enzo's comments on his early days, building the Scuderia Ferrari and his views on the business of motorsport, "My Terrible Joys" is the book to read.
Wow Factor/Money shot: Sharknose 156 at Lowes hairpin during the 1961 Monaco GP.
Suitable for: Tifosi and F1 history fans.